Avoid These Top 10 Facebook Messenger Bot Mistakes
Building a bot is a key step in business. There are tens of thousands of bots on Facebook, Slack, and other popular messaging platforms, and only a handful have gained widespread adoption. Improve your odds of success by making sure you avoid these common bot blunders.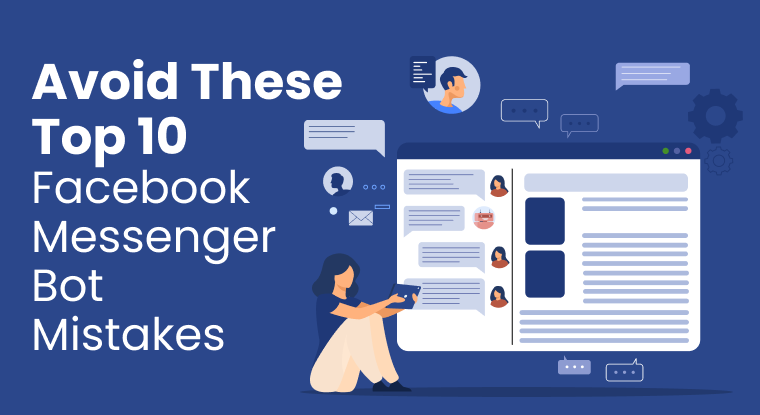 Messenger bots are essential to businesses and can be programmed to perform all kinds of tasks, from customer support to building brand awareness! These are the most common messenger bot mistakes you should avoid.
Messenger bots are the current craze and with good cause. Facebook Messenger bots are transforming businesses right now. They've changed the marketing game entirely, and they wield enormous power for whatever business you're in. CEO of Tesla, Elon Musk, was right on track when he said, "The pace of progress in artificial intelligence is incredibly fast."
Artificial intelligence and bots are digital marketing tools that small businesses should capitalize on.
Artificial intelligence, voice search and chatbots are some digital marketing tools that small businesses should capitalize on https://t.co/ySaeUQdvH3

— Finn Partners - Manufacturing (@FinnPartnersMT) January 29, 2018
According to Gartner, by 2020, 85% of our business engagement will be done without interacting with another human. Instead, we'll be using self-service options and chatbots. Additionally, according to an Oracle survey, 80% of businesses said they currently use or are planning to use chatbots by 2020. Also, in a Facebook survey, more than half (53%) of customers say they're more likely to shop with a business that they can connect with via chat.
What is a Facebook Messenger Bot?
A Messenger bot simulates a conversation and gives pre-written replies people can choose from, or it's waiting for specific input. Bots can help you generate leads, deliver lead magnets, and build 1:1 relationships by providing much value.
Why Facebook Messenger?
Messenger is the #1 app in the US and Canada, with over 1 billion active users. It's also one of the most engaging channels, with an average open rate of 80%. And click-through rates that are up to 10 times higher compared to email.
What to Use Facebook Messenger Bots For?
You can use a Facebook Messenger Bot for many things. But we can divide them into three categories.
The 10 Biggest Facebook Messenger Bot Mistakes
1. Failing to Plan Properly
There must be a strategic reason for introducing the new technology to your business, as with any technology trend. Adopting technology for the sake of it can be costly and counter-productive. Knowing what goal and metrics you're targeting will help you hone in on the right audience, design the correct bot functionality and experience, and ultimately guide your users to perform the fundamental interactions that drive your bottom line.
2. Not Creating a Dedicated Bot Website
A dedicated landing page for your Messenger bot gives users the option to read and understand your distinct value add. Without the introduction, you're leaving them to deduce your functionality by themselves.
The benefits of a dedicated website are clear:
Unifies access to your bot on a single page, which is especially important if your bot runs on multiple platforms or can be accessed in different ways

Builds SEO strength and an identity separate from the platforms. For example, a Google search for "Hi Poncho", the Facebook weather app, will lead you to their website, where you can easily add Poncho to your Messenger or Slack system.

Shares more about your product, links to additional information and press and increases the perceived legitimacy of your bot, brand, or business

Simplifies linking to and sharing your bot as site URLs are more shareable than bot access directions

Allows press, fans, and users to contact you easily
3. Not Listing in Bot Directories
Discoverability is very challenging for a Messenger bot. Other than Telegram, none of the current chatbot platforms has robust search functionalities. In the meantime, 3rd party lists and directories are being built to fill this void.
4. Vague and Uninformative Descriptions
As with any other product description, how you describe your bot will either inspire or discourage users from engaging. Bot reviews and rating systems are few and far between, so your description is key to your bot being discovered, understood, and adopted. Make your bot's functionality and utility abundantly clear for your target users.
5. Not Having a Unique and Findable Bot Name
Your Messenger bot name is one of the only pieces of information, other than your icon and a short description that potential users see and use to decide whether to try you out. Furthermore, if your bot name is too generic, users might not be able to find you at all. This problem is particularly exacerbated on messaging platforms like Facebook that lump bots together in search results with real people, businesses, pages, and other content.
So, make sure your bot name is easy to spell, pronounceable, and ideally at the beginning of the alphabet. Also, try to avoid any brand and trademarked names as that may get you in legal trouble.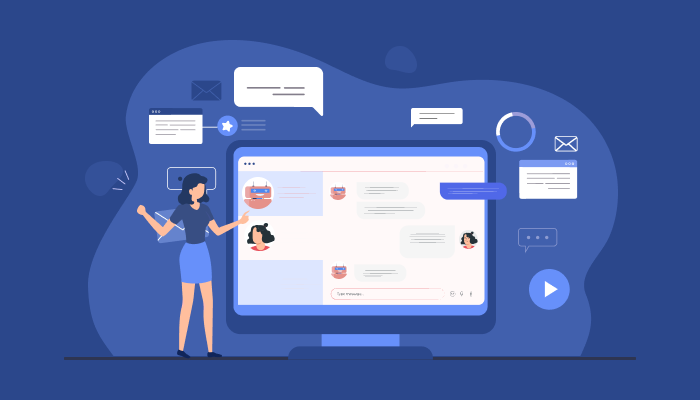 6. Not Clarifying That Your Bot Is Not a Human
On Facebook Messenger, search results put Bots and Businesses together, so users can't tell if they're talking to the actual owners of a business, an automated bot, or even a random person with the same name as your bot. Facebook may fix this in the future with a more precise designation. However, for now, you should distinguish your bot from humans by either adding "Bot" or "Assistant" to the bot name or by having your bot clarify its role when starting a conversation with users.
7. Not Performing Robust User Tests Before Launch
As with any product development, the first few iterations of your Messenger bot will likely have bugs or unexpected UX issues. Invite existing users to beta test your bot and share feedback. Users will feel privileged, and you'll get highly insightful information. Treat this bot launch as you would any other product build, complete with user research, testing, feedback, and constant iterations.
8. Not Leveraging Existing Users for Promotion
Existing users aren't just great for early feedback. They are often your greatest advocates since they're already fans of your brand or business. Engage your most excited existing users with your Messenger bot, pay careful attention to their usage and feedback, and include ways for them to easily share, use, and promote your bot with their friends in your marketing plan.
9. Being Overly Pushy or Spammy
Messaging is a personal act. People are used to messaging with friends, family, and loved ones. When inserting bots into the same platforms as these highly personalized conversations, there's a risk of businesses exploiting the interaction by overdoing sales offerings and spammy promotions.
Pushy bots are not only a marketing nuisance for users; they're also prone to be banned. For example, if enough users report your bot as spam, Facebook will automatically pull you from the Messenger platform.
To reduce the "spamminess" of your Messenger bot, respond only when users have proactively reached out. Resist the temptation to send unsolicited messages just because you have a one-to-one channel open with your audience.
10. Trying to Go Too Broad and Losing Focus
There's no need to make a bot for an entire brand immediately. You're better off building a Messenger bot for a single campaign or focused purpose. Trying too much with a bot usually leads to confused users, lack of adoption, and ultimately poorer results for your business and brand.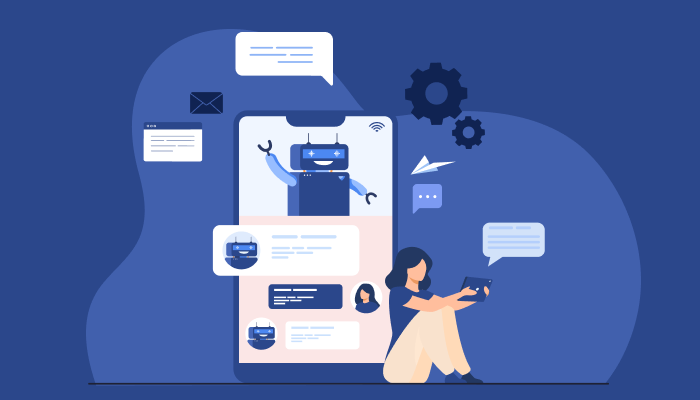 Reasons Your Business Needs A Facebook Messenger Bot
1. Improve Your Customer Support with Facebook Messenger Bots
If you're a more prominent brand that's constantly getting inundated with Facebook messages, integrating a bot with your Messenger account could be a great way to save time and money on customer support.
2. Make More Sales with Facebook Messenger Bots
A well-trained Messenger bot can also help you make more sales and conversions by sending your customers to the right places. With chatbots, you can offer a variety of functionalities, such as: Making sales with a virtual shopping assistant. Chatbots can assist your customers by guiding them through the entire buying process. They provide the same experience online as in a physical store. The only difference is that you have 24/7 access to them, and they don't require any effort from your side.
3. Customize Your Offers with Facebook Messenger Bots
Facebook Messenger can also collect relevant information about your audience and send customized messages based on their preferences. The message can be a discount coupon, free shipping, an exclusive offer, or something else.
The messages could also be triggered by specific events, such as when users finish their cart and checkout. The only limit is your imagination!
4. Keep Your Business Top-Of-Mind with Facebook Messenger Bots
One of the most helpful features of a Facebook Messenger bot is the ability to send newsletter-style messages to groups of your subscribers, called content or chat blasts.
5. Educate Your Audience with Facebook Messenger Bots
With over a billion users, Facebook Messenger is one of the largest messaging platforms in the world. And as with other messaging apps, Facebook Messenger has become an increasingly popular channel for businesses to communicate with their customers. According to Facebook's latest statistics, messenger bots have seen tremendous growth in the past year and are used by over 30,000 businesses.
A study by Drift showed that 74% of people prefer using messenger apps over other channels for customer service. A Messenger bot is also great for building brand awareness and educating your business.
It can serve as a helpful resource for answering frequently asked questions, product information, and more. And the best part is that you can make it easy for your audience to get in touch with you on Messenger.
6. Reach More of Your Audience with Facebook Messenger Bots
Facebook Messenger is one of the most popular apps in the world. The Facebook Messenger platform allows you to interact with your customers like never before. The more you understand how the platform works, the better equipped you will create great customer experiences. Join us for this exciting webinar to understand more about the Facebook messenger bot.
Ways to Use Facebook Messenger Bots to Increase Conversions
More than 20 billion messages are exchanged between businesses and users monthly on Facebook Messenger. A Messenger bot can help ease the buying process and increase conversation that will benefit your company by answering questions and performing most preliminary work usually performed through customer service staff. If you do Facebook marketing for increasing your conversion rate, then a Messenger bot is a must-have tool for you. Let's see how chatbot serves your business at its best.
1. Improve Customer Service
The first way to use Messenger bots to increase conversions is obvious: Through automated messaging, you are guaranteed to provide potential customers with an immediate response to any questions they may have.
Providing excellent customer services is crucial to upping your conversion rates and sets you apart from the competition. When building your chatbot, make sure you consider FAQs sent to your business and provide a means through which people can quickly find answers to them. The easiest way is to offer multiple-choice responses that gradually narrow down to a specific question.
By ensuring that you are providing high-quality answers, potential customers can quickly and easily decide if they wish to purchase your products or services. Not only does the relaying of accurate and precise information play to your favour, but by providing an immediate response, you are reducing the chances of these people sourcing an alternative supplier or buying from someone with a quicker response rate.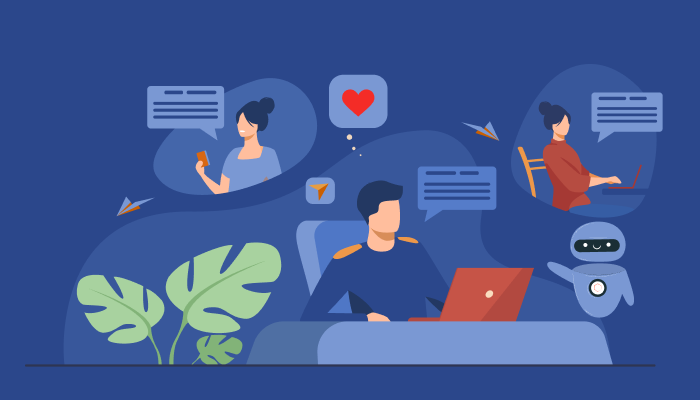 2. Build Brand Awareness
Use your bot to let people know what your company does, mainly when communicating with people who have recently entered your brand's sphere of influence. This is a great way to capture interest. By conveying your brand in a way that appeals to your target audience, you are qualifying people from a cold audience to a warm audience and moving them down your sales funnel. There are a few ways to do this, and there's no reason you can't do them all. It's all about what works best for your brand.
3. Encourage People to Visit Your Product Page
Once you've used one or both of the above features to warm your audience up, you can start directing them to your product pages. However, it is essential to make it feel natural and conversational and not like a sales pitch. If you don't want to direct people to your product pages this way, you can always add a shop button to the menu, but a well-organized conversation does tend to work well.
4. Send Broadcasts to Subscribers to Increase Your Customer Lifetime Value
As well as your standard bot conversation, you can send out ad hoc broadcasts to your subscribers. There are many valuable ways to use these to draw attention back to your brand and increase customer lifetime value and the likelihood of future conversions. Once again, make sure that these aren't too sales orientated and send them out sparingly – no more than once per week.
Use broadcasts to let customers know about important business news you think they will find interesting. Offer them content such as a blog that will draw them back to your website, or ask them if they want to be aware of future product launches and information.
With broadcasts, it's important not to bombard people with information but to engage them in a conversation. Try asking questions to see if they are interested and wish to continue. You should also offer multiple opportunities to end the conversation if they aren't interested.
5. Include Augmented Reality
Victoria Beckham is one of the few people to embrace augmented reality as part of her chatbot, and the results are awe-inspiring. She's the owner of one of the best Facebook Messenger bots we've seen. She uses it to allow users to use their camera try on her collection of sunglasses to see whether or not they would suit them. This is a great way to encourage conversions, which we hope to see more of in the future. You can check out this case study for more information on her bot.
Conclusion
Facebook Messenger bots are a friendly and accessible time-saver for customers. And for businesses, they're a cost-efficient way to scale customer support and marketing automation. Messaging platforms have exceeded social networks in popularity and engagement, so chatbot developers and marketers need to learn to succeed in these environments. While avoiding common mistakes won't automatically make your bot successful, you'll be much better off by heeding the tips above. Need more of a helping hand? Try BotUp by 500apps today. It has all the features you need to craft the perfect conversational chatbots to level up customer support and improve user experience. You can start your free trial here.
What Makes the Best Chatbot Software?