Strategies for Customer Engagement: Targeted Messages to Focus
The best strategies to keep your customers engaged for maximum sales from your marketing.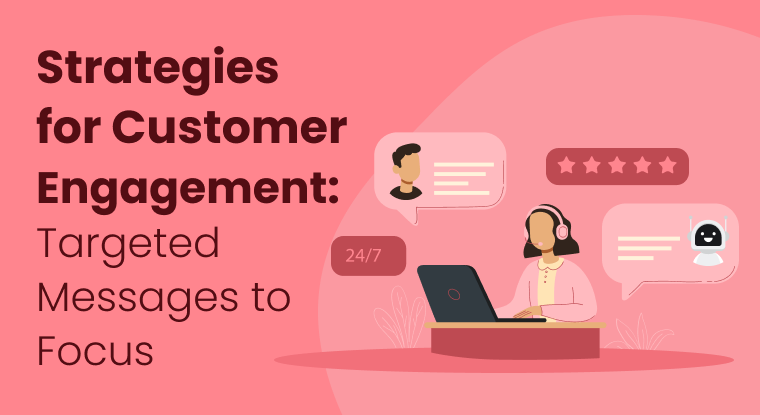 "Every contact we have with a customer influences whether or not they'll come back. We have to be great every time, or we'll lose them" – Kevin Stirtz
Today, the focus of all business marketers is the issue of customer engagement. The reason is that it validates the whole purpose of marketing. Building relationships with customers ensures that they keep coming back and recommend you to families and friends. Also, it provides that they choose you over the competition. To acquire, convert, and retain customers and make them advocates of your business, you need to engage them by connecting with them appropriately, effectively, and meaningfully.
You can't just rely on attention-getting signals or endorsements in customer engagement marketing anymore. With social media or (and) a full-blown internet presence, organizations and businesses can efficiently engage customers from anywhere at any time. If that looks daunting, you can employ tactics in engagement in marketing. These strategies are easy to implement and would increase your client management if done right. All you need is that each content must come from an authentic place, target the right audience, and provide compelling reasons for customers to engage.
To make your task easier, you can use customer engagement platforms to connect with customers anywhere. These tools help companies manage, analyze and optimize customers' journeys. It automates the whole engagement in the marketing process by sending personalized messages to customers across multiple devices and platforms.
What is Customer Engagement?
Customer engagement is the process of interacting with customers through diverse channels to strengthen your relationship with them. For most businesses, this begins with the first interaction and goes past the point of purchase.
Customer engagement marketing, therefore, transcends good customer service alone. Providing quality service to your clients would only encourage them to spend more. However, this will make them perceive their relationship with your brand to be simply transactional. You need to improve your customer experience by showing them that you value them more than the money they spend. That is the purpose of engagement in marketing.
Therefore, customer engagement marketing is a marketing strategy that delivers quality, relevant, and customized messages to customers. Its personalization constituent is what sets it apart from other digital marketing tactics. Since the content is relevant, customers feel more like valued members of the brand than deep-pocket sojourners.
Strategies for Engaging the Customers
1. Know your Customer's Journey
The first step in customer engagement marketing is knowing how your customers think, feel, and interact with your brand. First off, you can use an appropriate tool to map out their journey to easily recognize the touchpoints, bottlenecks, and challenges they face. This will help you understand more about their needs and behavior. Realizing how they think will help you recognize engagement opportunities.
Once this is done, you can now create a customer profile by analyzing these behaviors. You can then look for signals like motivation, income, location, interests, browsing interests, and many more that matter to your business. A customer engagement platform analyses your results and will help you develop ideas to engage each customer in a way they prefer specifically.
2. Use Push Notifications
An effective way to engage in marketing is by consistently reminding your customers what you stand for and where you are now. You should employ push notifications to tell them what else you have to offer. Push notifications are short messages that appear suddenly on a user's mobile or PC screen outside the app or browser. They are used to update customers about special events, offers, details, and news.
You need to craft push notifications with a compelling message that will excite customers enough to click on them and absorb them further. A survey by BusinessofApps shows that an average US phone/PC user receives about 46 push notifications in a day. So, to stand out, you need to make your pushes as engaging as they can be. Also, it would be best to place your customers in segments since not all of your customers will be interested in the same thing. A specialized customer engagement platform can automatically identify your customers in detail based on their interests, region, or dispositions.
However, it would help if you were very modest with push notifications. Customers can choose to opt-up when the messages are becoming a nuisance. The survey by BusinessofApps further showed that about 32% of the receivers of push notifications disable them if they receive more than five notifications in a week from an app.
3. Leverage on Conversational Marketing
With the intellectual growth of customers in technology and how the internet works, digital marketing is becoming more sophisticated. People don't just want to buy; they want to buy from a brand they can identify with or have a relationship with. They expect to connect—without fail—with these brands whenever and wherever it suits them.
For example, if a customer makes a transaction at night and has issues with the payment process, they expect it to be dealt with immediately. If the brand lags, they would be skeptical about reinitiating transactions with the brand and instead move on to competitors. This level of customer engagement marketing is challenging manually, even for the biggest brands, hence why brands use conversational marketing tools like chatbots.
Chatbots are automated chat services that have been online 24/7 since activation. It guides and helps customers resolve issues or complaints through its experience with the customer. These tools are based on artificial intelligence and can mimic human conversational patterns to create a real customer engagement experience.
Using a customer engagement platform integrated with chatbots will enable a consistent communication process with customers. Even if the customers realize they are chatting with a bot, if it is effective, they would not mind. Customers want to be attended to and instead resolve their issues as soon as possible.
4. Be retention focused
In marketing, it is common knowledge that retaining customers is more cost-effective than acquiring new ones. Existing customers tend to spend more and more often than new ones. Also, they recommend the brand to friends and families, some of which you can convert into customers. A new customer would want to test the market by spending less.
So as a business owner or brand, as a critical strategy of engagement in marketing, you should focus more on making customers come back rather than acquiring new ones. With a consistent series of positive, reliable, and fruitful interactions, you can make your customers satisfied and engaged and make sure they come back.
Customers tend not to revisit brands that focus more on what they bring—money. They prefer a brand that appreciates them, and they will quickly look forward to exciting new offers. Customer engagement marketing goes hand-in-hand with customer retention. Work on keeping your customers satisfied in the long term.
5. Improve Your Social Media Marketing
Even though customer engagement marketing is a part of digital marketing, it relies heavily on the success of your social media marketing. It is popularly known that being active on social media is essential for businesses in this age and time. You need to engage your customers on social media, and its ripple effect will impact your engagement marketing. Social media is full of brand products and services competing against each other; with a lot of noise, your engagement activities must be focused.
Firstly, you need to update regularly on your social media platforms. It doesn't necessarily mean posting daily, but there should be a consistent content stream on your social media platforms. With the endless streams of information on the internet, consistent posts would place your brand firmly ensconced in your customer's mind.
It would help if you interacted with them. It seems like a chore, but responding to your customer's comments on social media is very important, mainly replying to negative comments. Every customer's complaint is an opportunity for you to engage them. Other social media users watch how brands respond to criticisms and negative feedback before deciding if they are worth patronizing. So your customer engagement marketing plan should entail carefully addressing negative comments.
If your customers are not talking, get them to talk by starting a conversation. Posting interactive content like polls, quizzes and contests would invite participation and dialogues. When a customer feels comfortable talking to you, know that you have just scored a marketing conversion.
6. Use Videos
Videos create the highest level of engagement, making them a powerful tool in marketing. Since people now spend more time on mobiles, the allures of enticing videos at different times would be irresistible to consumers. Hence, it is the most popular engagement choice in marketing. To create a good video, you must be a good storyteller. Despite the growth of the world's digital presence, people still love a good story. A well-narrated story video would quickly get more engagements and interactions than its written counterpart. Videos make people rapidly make sense of the happenings around them.
Your customer engagement marketing plan must include consistently uploading interesting or movie stories. Sell your brand to your customers in a way that will make them fall in love with you or make them feel empathy. Either way, you hit the needed engagement button, and you will gain more interest. Also, it would help if you considered the audience you tell each story. Interests and acceptance defer, so you should use a customer engagement platform to target a specific audience segment with the appropriate video. Targeting customers with suitable videos means you are more likely to get engagements from customers.
The Strategy to Implement
Even when you are marketing to your entire audience or customer base, you are still simply speaking to a single human at any given time." – Ann Handley
A survey by PRNewswire shows that companies that focused more on improving customer engagement experienced an 84% increase in revenue. When individuals have bad experiences with a company or brand, they are less likely to return. The impact of creating great customer experiences cannot be overemphasized.
It would help map out how you interacted with your customer and invested your resources to leave the best impressions. Implementing the strategies above will help you record noticeable improvement in sales and revenue. Above all, you will keep recognizing more ways to improve.
To record success in engagement marketing, you should use a tool that develops scripts and conversational flows. BotUp is designed to keep your customers engaged with your brand. It integrates your content across all your social media platforms and uses chatbots to interact with your customers. BotUp takes the customer worries off you to focus on other tasks. Learn more about BotUp here.
What Makes the Best Chatbot Software?