A Chatbot for Your Business: Why AI is the Future of Customer Service
AI chatbots are not a new notion, but they are becoming increasingly more popular with the advent of artificial intelligence. Chatbot software is currently being used to handle customer service on websites and in mobile apps.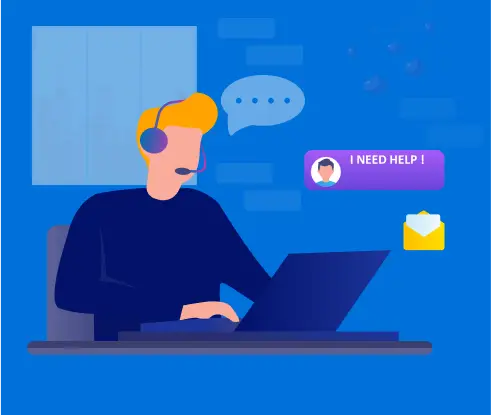 A chatbot is a software program that can mimic a natural language discussion (or chat) with a user via messaging apps, websites, mobile apps, or the phone. AI chatbot communicates with humans using messaging apps like WhatsApp, WeChat, and Facebook Messenger.
Artificial intelligence (AI), as well as customer relationship management (CRM) technologies, are helping us get there. The technologies may work together to automate mundane activities, freeing up human agents and giving them data-driven insights to help them quickly handle client issues. They're assisting retailers, banks, government organizations, and others in rethinking their customer service goals, allowing their teams to transition from a support role to a development engine.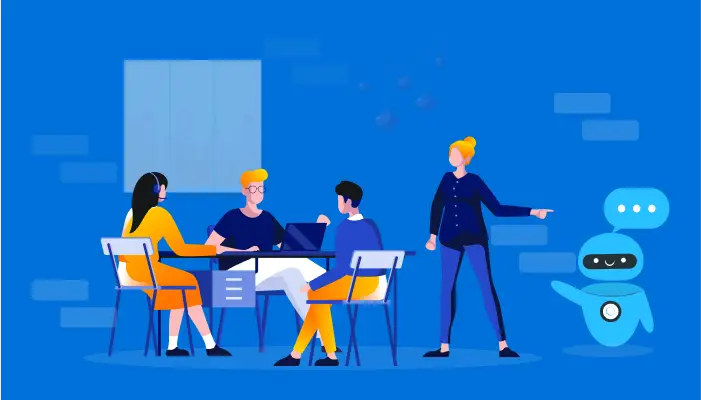 Why AI Chatbot is Important?
An AI chatbot is frequently regarded as one of the most advanced and promising forms of human-machine interaction. However, from a technology standpoint, an AI chatbot is just the next step in the growth of a Natural Language Processing-based Question Answering system (NLP). One of the most common examples of Natural Language Processing in usage in many companies' end-use applications is formulating replies to queries in natural language.
At the heart of AI chatbots software, there are two distinct tasks:
User Request Analysis:
The first duty that an AI chatbot does is user request analysis. It examines the user's request to determine the user's intent and extracts pertinent elements. The capacity to recognize the user's intent and extract data and relevant entities contained in the user's request is the first and most important requirement at the heart of a chatbot: It will not deliver the proper answer if it does not accurately interpret the user's request.
Returning the Response:
After determining the user's purpose, the AI chatbot software must deliver the most appropriate response to the user's request. The answer could be:
A text that is general and predetermined
A text that has been retrieved from a knowledge base and provides a variety of replies
A piece of information that has been contextualized depending on data provided by the user
data kept in business systems
The result of an action performed by the AI chatbot by interacting with one or more backend applications
Or a disambiguating question that aids the AI chatbot in correcting itself.
Chatbots used to be rudimentary a few years ago, only capable of handling pre-programmed scenarios. Any variation would either trap them in a loop or stump the client, resulting in them not performing what they are meant to do. With the incorporation of AI into chatbots, this has altered dramatically. AI Chatbots can now manage complete discussions and send customers to a live person, providing an almost seamless experience.
Pamela Kokoszka of Retail Insight Network had this to say "Chatbots in retail are enjoying a surge due to the omnipresence of messaging apps. Retail brands are using these platforms to bridge the gap between online and offline experiences. By leveraging the ability to build a chatbot on these platforms, brands are engaging with their customers in a more conversational setting."
How Artificial Intelligence Enhances Customer Service?
Here are just a few examples of how artificial intelligence has enhanced chatbot software and its applications:
AI Chatbots Change the Way Businesses Respond to Customer Queries
In reality, customer care representatives can only manage one customer service call or problem at a time. In its many forms, AI enables customer service teams to perform more, improving customer experience. Chatbots, for example, may answer numerous questions at the same time. This is a benefit for firms with crowded call centers and long wait times. If a query is too complicated for a chatbot to handle, a real agent can step in to help.
Artificial intelligence analyzes data to determine the best representative available to meet the demands of the consumer. It then gives the required background information to the representative before they interact with the consumer. This saves time and personnel while also allowing the client to handle concerns more effectively. Apps like Facebook Messenger, WhatsApp, Slack, and others are digitizing how people interact, and virtually every mode of communication will eventually include AI improvements.
AI Chatbots Provides Instant Customer Service
Nobody likes to be kept waiting for answers to fundamental queries about your company; they don't have to with the implementation of a chatbot. Chatbots can handle simple Q&As for you no matter what time of day people visit your site with queries and no matter how busy you are.
You may program your chatbot to ask and answer questions about your company and consumers. Customers may conduct genuine discussions with your chatbot to receive answers to their questions if it has AI-backed natural language processing skills (which some WordPress chatbot plugins provide). What if someone asks a question that your bot is unable to answer? You may program your bot to connect the consumer to your customer care department.
Easy Access to Big Data with AI Bot
As the data is completely based out of the cloud and it is also equipped with much of big data and machine learning. The AI conversational bot can scan this data for the customers to fetch the requested information. The respective information is scanned from the huge volume of databases thereby providing the customers with what they need. Business owners can quickly understand and enhance the end-user experience in one go with the help of AI-powered bots. That's how Google, Alexa, Siri became famous. And, businesses tune to this particular chatbot software to fasten up the customer processes and enhance the customer experience.
AI Chatbots can Help Customers Find the Products They Want
Your consumers can locate what they're searching for while chatting with the correct chatbot, rather than having to navigate the site on their own. Some WordPress chatbots, for example, interface with applications to allow product searches, upsells and cross-sells from within the chat function. This results in a consumer experience that is more akin to in-store service than click-and-search purchasing online.
Why would you want people to buy through your chatbot rather than your website? Because they would prefer not to use a site unless it is straightforward to use. According to a 2018 survey, "difficult-to-navigate" websites were the top source of annoyance for online consumers.
Nonetheless, the true strength of today's chatbots is the amount of data they gather and arrange for company owners. You have immediate marketing lists when a chatbot collects information from Facebook Messenger, email addresses, and phone numbers. Combining that contact information with how those buyers interacted with the chatbot and your website can easily segment those lists and build more successful ads. AI is capable of scraping enormous volumes of data and converting it into highly legible reports.
Which AI Chatbot Application is Right for You?
There are several techniques and technologies available for developing a chatbot. Some chatbot technologies are more suited than others depending on the use case you wish to solve. A mix of several AI types, such as natural language processing, machine learning, and semantic understanding, may be the best choice for achieving the necessary outcomes. The greatest chatbots for your organization are those that provide bottom-line business success – either making or saving money.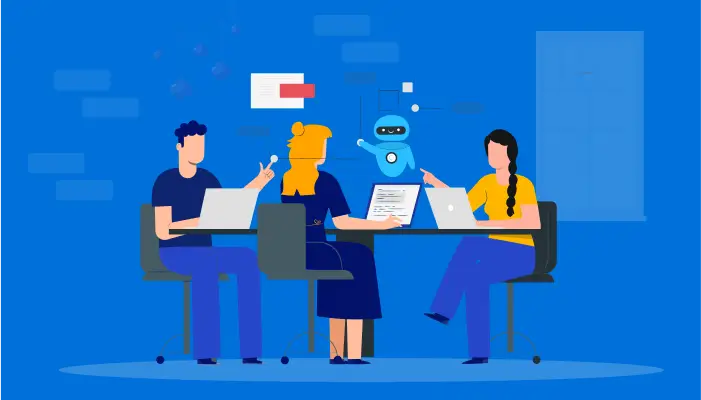 Here are Some Things to Consider While Selecting an AI Chatbot Builder:
The finest chatbot builders for business are reasonably priced. A chatbot builder should have a minimal cost barrier to entry. Expect to pay for scale or premium features, but when starting, seek anything that costs less than $1k per month. The top corporate chatbot software builders provide a plethora of functions. Chatbot builders should have many features, but they shouldn't be so complicated that they're hard to understand. Using chatbot templates should make it simple to get started.
The top chatbot builders for business are mainly concerned with Facebook Messenger chatbots. Choose a chatbot builder like BotUp that works with Facebook Messenger. Messenger, which is being combined with WhatsApp and Instagram, has the most users, incredible variety, and promise among all messaging systems.
The best chatbot software builders for businesses are simple to use. Your chosen chatbot builder should be straightforward to understand and utilize. Avoid chatbot builders that demand a grasp of NLP or coding or programming abilities. The top chatbot software builders for businesses provide excellent customer service. If you're stuck, always base your chatbot decision on the support you can obtain—select chatbot builders with an active social network or customer care staff.
Chatbots are proven to be the much-needed companion for all enterprises. However, selecting the best AI chatbot software may be difficult with so many alternatives on the market because their terrain is constantly evolving and expanding. Having the appropriate chatbot builder deploy your chatbot software will save you, your clients, and your employees money and time.
The Takeaway!
The waves of artificial intelligence in customer service never end and these waves create vibes for the organizations to invest the maximum only to enhance customer experience. As businesses are focused on leveraging the opportunities in the field of AI, why it is not everywhere? The actions continue to hit the market and technological automation creates mighty growth. And, most organizations believe in adaptation to conversational AI chatbots is an adoption towards digital transformation.
Artificial intelligence has already made inroads into the marketing sector. In chatbot software building, it is rightly considered the next phase in the expanding power of the internet. If you're still unsure about using this degree of technology in your marketing and company processes, rest assured that incorporating AI chatbots into your brand is a success driver.
ALL-IN-ONE Suite of apps to enhance your team's productivity