After successfully building Agile CRM, our all-in-one customer relationship management (CRM) software, we started noticing other places where our specialized app creation capabilities could be utilized. As an organization created to help growing businesses operate like the Fortune 500, it was only natural for 500apps to brainstorm new ways to increase productivity.
Already working to improve sales and marketing for businesses around the globe, another way we noticed we could help is by providing a way to better serve customers online.
There were many times some of us within the organization needed to talk to customer service or sales representatives but didn't have time or energy to wait on hold for them on the phone. That's when we decided we didn't want our customers to have to experience this frustration either. So, we sought out software that would allow us to implement an automated live chat feature that could field customer inquiries and feed them to human representatives when necessary.
It turns out, that's easier said than done. When we couldn't find a chatbot software that would meet our needs, we realized there was a problem that needed a solution...and we had the ability to solve it.
The Problem
Ultimately, we needed a chat feature that would allow us to cut down on the extra workload for sales and customer service employees and an easy way to implement it. We started to notice our customers were more likely to reach out through social media than ever before. But we didn't have a way to field all of the questions and comments.

As we researched software solutions to help us get started with a live chat feature on our social media channels, it occurred to us that none of them quite met all of our needs. We found some that would be built entirely for us and some that would allow for some customization. But we were looking for one that we could build that would require very little technical expertise so anyone in the organization could do it. We also desired a high-level of customization capabilities.
It was also important to us that we could use the same chatbots to provide lead nurturing services to make it more worth our while. To have the tool manage our contacts and scheduling messages, email, or text notifications, would save us considerable time.
The tool we sought would also be able to integrate chatbots with many different communication channels. Ideally, one that included Facebook Messenger, Slack, and WhatsApp was highly desired.
When we were still unable to find a tool to meet all of our needs, we realized that we needed our own solution.
The Requirements
We determined that our primary requirements were the following:
Live chat capabilities: The tool needed to have live chat capabilities and the ability to transition to live agents when appropriate.

Customizable: We wanted to be able to make it our own with strong customization and personalization features.

Ability to measure results: It was important for us to be able to analyze the performance of our chatbots so we could make improvements and more informed decisions.

Robust dashboard: A dashboard showing an overview of all chatbot statistics was a requirement for us in order to keep track of how each bot is performing.

3rd-Party Integrations: We also wanted to be able to create seamless and easy integrations with 3rd-party sofware.

Drag-and-drop: We knew right off the bat that we wanted to be able to build chat flows with a visual drag-and-drop builder so we could arrange flows quickly and easily.

Templates: The ability to build powerful chatbots quickly appealed to us, leading to a requirement for the tool to include templates.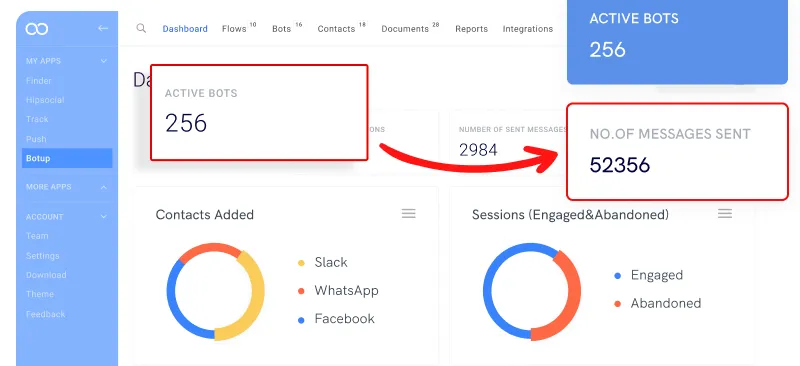 Our search for the perfect chatbot software had us try some of the leading software choices on the market at the time. Unfortunately, none of them met more than half of our requirements in any single solution. Our gathered requirements and our unsuccessful search led us to the conclusion that we were not going to find exactly what we were looking for.
The Solution
Knowing that our problem was not beyond resolution and that there had to be a way to make it happen, we made the decision to build it ourselves. As a result, Botup was born. Following the lead of our previously built apps, we created it for our own use and shared it with other growing small and medium-sized businesses so they could benefit from our research and feature-rich new software.
The result was an automated messaging bot that works with Facebook, Slack, and WhatsApp to improve customer support capabilities substantially.

Included in the app is a visual drag-and-drop functionality to build chat flows quickly and easily as well as connectors to give flows more context, allowing chatbots to make more meaningful conversations.
We also included multi-chat channels to implement chatbots on various platforms to bring live chat capabilities for social media channels as well as landing pages on websites. Sales and customer service representatives can focus on higher-level tasks and priorities as the bots take care of initial contact and fielding customer questions.
Of course, we wanted to take our app a step further to offer lead nurturing capabilities such as managing contacts, qualifying leads, scheduling messages, and sending email or text notifications. Botup also includes analytics so all of your chatbots for each channel will have data represented visually, generated to help you analyze their performance. All data can be filtered by date and time to compare and analyze time ranges.
Botup's powerful integrations with your favorite customer communication channels allow for automated interactions that will help you with all of your sales and customer service needs. Give it a try for free for 30-days and see for yourself how Botup can help your growing business.