How to Make a Intelligent Chatbot?
Artificial intelligence (AI) chatbots have been created to serve human users on many platforms, such as automated chat assistance or virtual assistants who can recommend a music or restaurant.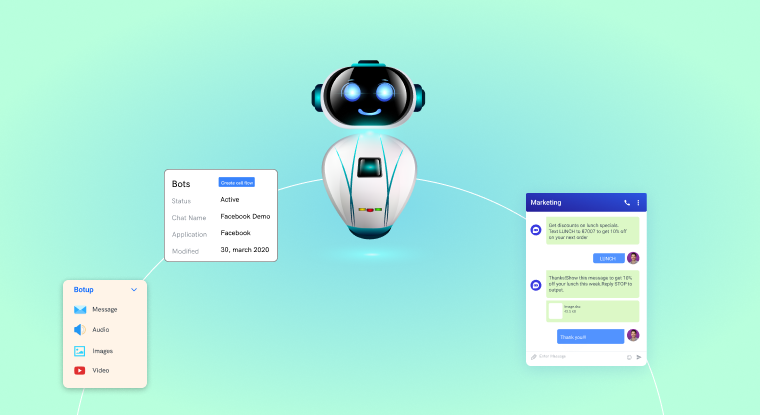 Let's Understand What Is an Intelligent Chatbot
As the name suggests, artificially intelligent chatbots are designed to replicate human characteristics and behaviors. Such chatbots are greatly enabled by NLP, or natural language processing, which helps computers understand the nuances and undertones of human speech. A genuinely intelligent chatbot is produced when NLP and artificial intelligence are coupled. This chatbot can respond to complex inquiries and learn from every contact to produce more appropriate responses in the future.
Faster Internal Processes
Chatbots can be used to streamline internal communications and business operations. The onboarding process, for instance, might make use of an intelligent chatbot, where a new hire may ask a question and receive a prompt response instead of contacting numerous departments.
Cost Savings
By deploying increasingly proficient bots that can handle more and more complicated enquiries, businesses may manage their expanding demand for customer care personnel.
Personalized Recommendations
One explanation is that bots might serve as an easy-to-use platform for displaying algorithm-driven, customized recommendations of a company's new goods and services to users.
Features That Make the Chatbot Intelligent
Intelligent Agent
It is the capacity of an agent to have a goal and move toward it independently. It is a very difficult challenge that is of varying importance to different types of intelligent agents to choose a goal for a given situation. when simulating a throng. For instance, tackling this is one of the most challenging aspects of effectively simulating crowds because it calls for models of not only rational agents but also emotions, social relationships, etc.
Each agent advances towards its objective through cycles of sense-think-act. Sensing the environment it lives in in order to gather the knowledge it needs to carry out a task is the first phase of this cycle. An intelligent chatbot only needs to listen to the sentences you input for it to function. However, if we were developing a robot, the sensing component would turn into a scientific issue, requiring the fusion of cutting-edge sensors.
Decision Making Skills
For most purposes, the core of artificial intelligence is the "think " phase of the cycle. This itself is divided into various parts: Making a decision based on all of this knowledge requires:
Converting the received information into a form that a machine can reason about.
Storing this information in the agent's knowledge base so that it can reason about it.
Updating the agent's state based on pre-existing knowledge and newly acquired knowledge.
Turning this decision into an action that can be carried out by an actuator.
Learning Skills
People are much more aware of the learning that is feasible these days because of deep learning's growing popularity and the amazing things that neural networks are capable of. These intelligent agents can recognise patterns in the information they receive and react to them properly thanks to learning. However, to solely equate that with AI would be incorrect. Only a portion of the cycle's thought portion is covered here. Without a learning component, there are also a number of agents that are rather strong and intelligent. For instance, in a fascinating game theory experiment, it so happened that an intelligent agent's best long-term strategy in a competition was a ""tit-for-tat"" strategy.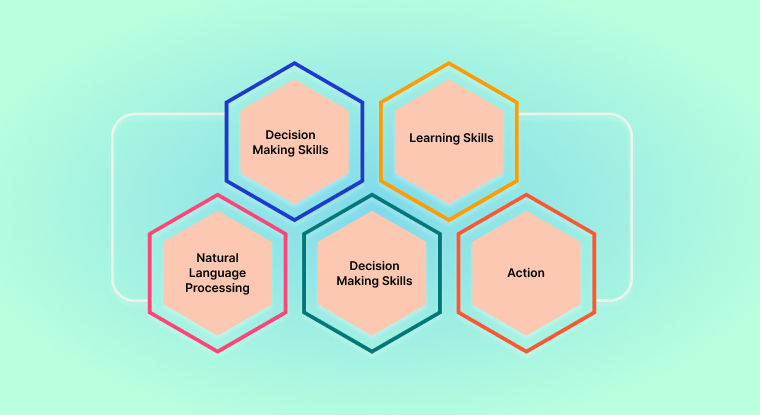 What else does an intelligent agent accomplish in addition to learning?
Let's keep it simple by focusing on the case of intelligent chatbots. Making use of the information that has been detected is the first step. The field of AI that deals with the problem in the case of chatbots is natural language processing and understanding. Despite the fact that there has been a lot of progress in this area, anyone who has interacted with an intelligent chatbot understands that this is far from a solved issue.
Natural Language Processing
The knowledge base or knowledge representation of an intelligent chatbot software, or how the information acquired is stored, comes next after natural language processing and before the learning component kicks in. This is crucial because it affects both the effectiveness of learning and the level of intelligence that the intelligent agent can exhibit.
For instance, how the knowledge is represented internally has a significant role in how clever Google Now, Siri, and Cortana appear to be. As a result, it can:
Learn more quickly.
Identify relevant information.
Choose relevant information.
Reason about it and provide relevant information.
Information may be incredibly powerful when stored properly using the appropriate rules and data structures, even increasing the efficiency of any learning that is done.
The agent must make a decision based on all the knowledge acquired and lessons learned as the final stage of the cycle's think phase. This is choosing what an intelligent chatbot should say next in the instance of an online chatbot. A choice might not be for just one action.
A highly intelligent bot might be able to make decisions about which questions to ask in a sequence and adjust those decisions when new information comes to light. The thinking phase comes to an end once a choice has been made, and the acting phase takes over.
Action
It is simply the act of typing out the sentence that an intelligent chatbot has chosen to speak. It would have been more challenging to behave if it had been an audio or video chatbot, because it takes more effort to sound human than it does to type out a message.
In Conclusion
According to Gartner, by 2020, an intelligent chatbot will be used for 85% of customer interactions with brands. This demonstrates that a chatbot with artificial intelligence is unquestionably the user interface of the future for websites. Many jobs may be replaced, yet for every one that AI destroys, another is created. The trend will continue, with businesses using intelligent chatbots to increase traffic and sales. Therefore, it would be excellent to have more knowledge about creating AI chatbots or, even better, to be able to create them independently. Our AI training will be a huge help to you if that's your goal.
Chatbots have been around for a while. They are simulations that can process and interact with human language while carrying out specific activities. For instance, a chatbot could be used as a help desk representative. In 1966, Joseph Weizenbaum developed Eliza, the first chatbot. It all began when Alan Turing posed the intriguing question, ""Can machines think?"" in an article titled ""Computer Machinery and Intelligence."" Since then, numerous chatbots have surpassed their predecessors by being both more technologically and organically fluent. These developments have brought us to a time where having a conversation with a chatbot is as common and natural as having one with a human.
Today, practically every business has a chatbot to interact with clients and support them by answering their questions. Although chatbots will be practically ubiquitous, this is no guarantee that they will all work properly. Here, creating a chatbot is not the difficult part; rather, creating one that works well is.
However, with the right tool like BotUp, you can build an intelligent chatbot within time.
What Makes the Best Chatbot Software?
#1
Build and improve your bot conversation flows to engage and increase leads
#2
One bot for Website, Whatsapp, Facebook, and SMS
#3
Nurture your leads faster with built-in CRM
#4
Create bots from rich & advanced template library based on your requirement
#5
Design bots using visual drag-and-drop builder with no code
#6
Use the REST step to integrate your bot flow with your database and backend
#7
Enhance service through advanced reports and revisiting customer conversation history
#8
Share appointment links, allow users to call and chat using built-in tools
#9
Unbelievable pricing - the lowest you will ever find
#10
Everything your business needs - 50 apps, 24/5 support and 99.95% uptime
Join the SaaS Revolution
All-in-One Suite of 50 apps

Unbelievable pricing - $14.99/user

24/5 Chat, Phone and Email Support