Top Chatbot Software: Top Five Picks for 2022
Interested in getting a chatbot for your business, but you're unsure which software tool to use? Our article takes you through the five top chatbot software that will help you get the best results.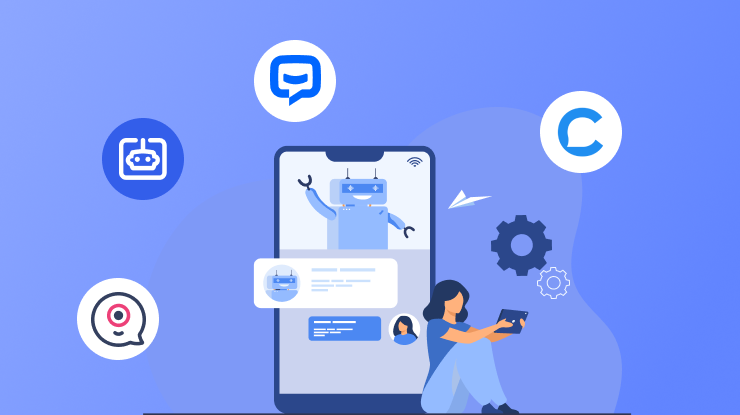 Chatbots have begun making a mark in the customer service industry. With reduced wait times and increased speed, customer engagement and satisfaction is improving. The best chatbot tools are competing to employ AI and Natural Language Processing (NLP) to improve customers' overall experience.
In this article, we explore the 5 top chatbot software in 2022. We also discuss how your business will improve by incorporating chatbots and the outlook for chatbots in the future.
How Top Chatbot Software Help Businesses?
Chatbots find multiple functionalities in various kinds of businesses. Here are some ways chatbots can help different types of businesses:
A. Improved Customer Service
Customer service is the art of responding to customer requests promptly to provide them with a delightful experience. Can improve the customer experience by customer service chatbot providing relevant, consistent answers to queries.
B. Answering Repetitive Questions
Repetitive questions are not only a bore to human agents. They also reduce motivation and decrease the amount of time spent on more challenging requests. Chatbots automate these responses quickly and in a consistent manner. This ensures that customer needs are met on time while human support agents are less burdened. Therefore, support agents can spend more time handling complex requests and improve efficiency.
C. Marketing and Sales
Although chatbots are not explicitly marketing tools, they can help companies up their marketing and sales game. Collect data on each visitor or customer to the website with ai top chatbot software. Businesses can program the chatbot to use this data to recommend products and services to customers, primarily based on their history and preferences.
Chatbots can also initiate conversations, reducing customers' need to always be the first to reach out to businesses. They can also process and confirm payments, making the process of making purchases smoother.
D. Boost Scalability
Chatbots can be programmed in any language and launched anywhere in the world. This increases the global reach of businesses and creates bespoke experiences and excellent support for customers anywhere in the world. Therefore, customers around the globe become comfortable and familiar with your product, increasing your chances of becoming a global brand.
F. Data Analysis
In the 21st century, data is everything. This is especially true for businesses that want to serve customers better. Chatbots collect valuable data with each interaction, creating a recognizable pattern of customer behaviors and habits. This data gives companies a good idea of customer needs to address them with better products.
Client data is also invaluable to marketing teams, who collate and analyze the data. Marketers use this to develop more effective marketing strategies that improve conversions.
G. Saving Costs
With chatbots automating most of the responses, companies need fewer hiring staff. Additionally, the telephone costs drop, with fewer requests needing to be handled via a call. In some cases, telephone costs drop to nearly zero, as phone calls are replaced with Live Chat. Live Chat allows human support staff to respond to the customer via a chat box. Although chatbots are a one-time investment, their benefits ripple through the years.
H. Reducing Human Errors
Although humans are excellent at handling difficult situations, even the best-trained support staff can make a few mistakes, especially with tedious, routine tasks. Chatbots software eliminate these mistakes by sending standard, automatic responses. This ensures consistency and assures customers of high-quality service.
The 5 Top Chatbot Software in 2022
Here are our top chatbots software tools for businesses in 2022:
1. Chatfuel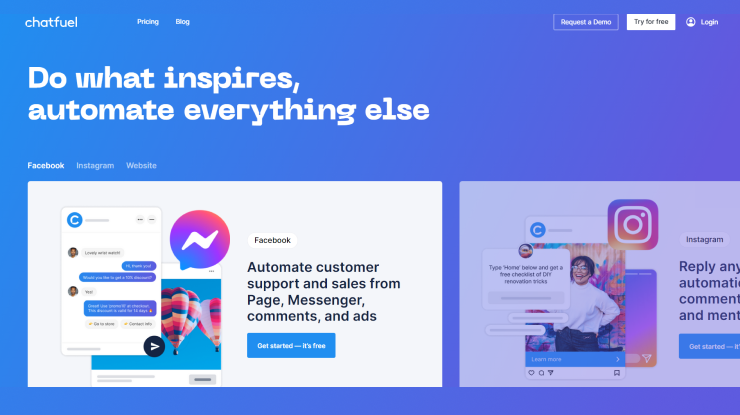 With over 360,000 chatbots built on the platform, Chatfuel is one of the most popular business chatbot tools. Devoted mainly to the Facebook Messenger platform, Chatfuel has a global reach, with over 17 million users worldwide. Chatfuel comes with several features, allowing you to add messages via text cards, image cards, and more.
Also supported by other apps on the Meta suite, such as Facebook and Instagram, Chatfuel supports up to 50 languages, allowing users worldwide to create amazing bots. It also supports multiple integrations such as Google Search, Bing, LiveChat, etc. While it comes with a Free plan, standard pricing starts at $9.99 per month.
2. Botsify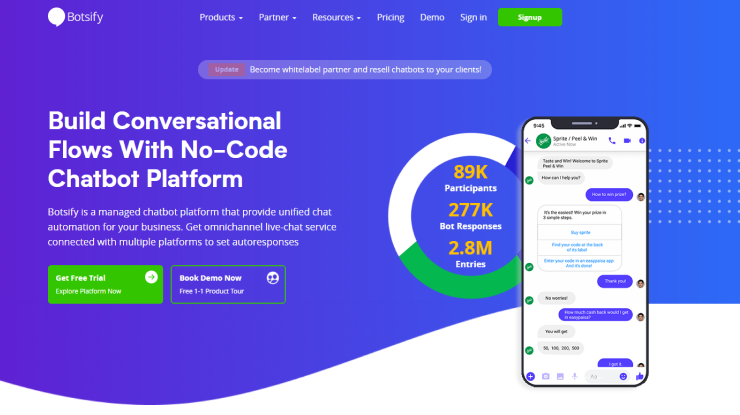 Botsify is an intuitive, multi-platform chatbot creation app that allows you to design chatbots for your website or social media page. Its built-in Machine Learning and Natural Language Processing features make it an excellent choice for a long-term support bot. Its simple, drag-and-drop interface makes it easy for users to create bots.
Botsify comes with a Free Trial period and starts at $49 per month.
3. BotUp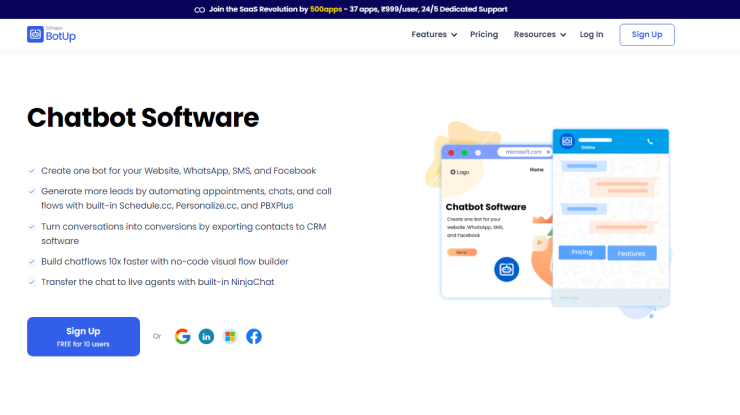 Intuitive and user-friendly, BotUp is one of the best platforms for quickly building functional chatbots. A part of the 500apps suite, BotUp allows users to create chatbots within minutes. Its pre-saved templates enable teams to develop and deploy chatbots faster. BotUp is an all-inclusive platform, deployable on websites, SMS, Facebook, WhatsApp, and Instagram.
BotUp integrates with CRM, LiveChat, Helpdesk, and more, allowing your customer support team to better connect with customers. Coming with free access to 30+ apps in the 500apps suite, a BotUp plan starts at $14.99 per month.
4. ChatBot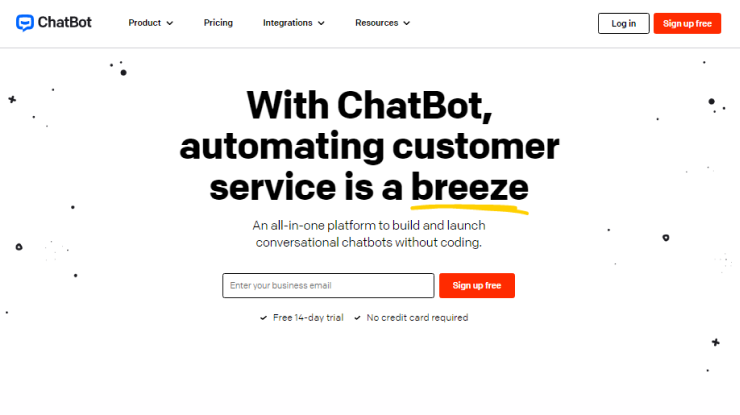 ChatBot by LiveChat is a simple, all-in-one chatbot tool for creating conversational chatbots without coding. Its drag-and-drop chat builder helps businesses get their chatbots up and running with minimal technical expertise. top Chatbot software integrates beautifully with websites and Facebook, allowing you to reach your customers where they need you.
Chatbot allows you to try its services with a 14-day free trial. Its paid plan starts at $50 per month.
5. Landbot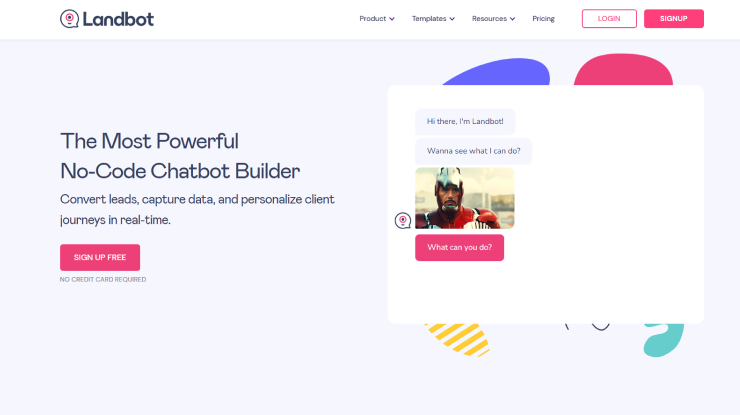 Landbot's intuitive, game-like interface helps make the chatbot building process easier for teams. Its no-code interface makes it easy for teams to build and launch chatbots within minutes. Its features include carousels, enriched mini-buttons, and live chat.
Landbot integrates with several tools such as Google Sheets, Slack, and Calendly. Landbot can be deployed on your website, Facebook page, and other platforms. Offering a free plan, Landbot pricing starts at $30 per month.
How to Choose the Best Chatbot Software for Your Business?
Chatbots are generally able to help you to serve your customers better. Still, it's crucial to choose a chatbot that best suits your business. Here are a few tips for doing so:
Determine the Purpose of the Chatbot
Understanding the chatbot's purpose is a crucial aspect of choosing a chatbot software. Different chatbot tools offer different functionalities. Some are best for designing simple, rule-based chatbots that work through an algorithm. Others can incorporate Machine Learning, Artificial Intelligence, Live Chat, and Natural Language Processing into newly-developed chatbots.
When selecting your choice chatbot software, pick one that suits your needs. If your customers mostly have task-specific needs, such as a food-ordering business, a rule-based chatbot would be best for you. If your customers have more open-ended questions, you may need an option with more advanced features.
Look at the User Interface
Like with any product, when designing a chatbot, consider the end-user's needs. Ensure that the interface is not too difficult so that they can benefit maximally. You can run a beta test with a few of your customers to see how they interact with the software. This gives you an excellent idea of how they'll use the chatbot and what software to use to design it.
Check Its Knowledge Infrastructure
The best chatbot tools demonstrate a high level of competence in learning. Certain chatbot tools require you to teach your chatbot nearly everything, including basic skills. This is rather tedious and may lead to unsatisfactory results. Excellent chatbot tools can learn and improve based on user interactions and user data. This leads to positive outcomes for users.
Look at the Development Interface
The best tools make chatbot development straightforward and intuitive for the team. Tools should be easy to access and add to your chatbot. This allows your team to create and deploy the chatbots in a relatively short time. Also, this enables your team to make changes and implement solutions quickly.
Consider Pricing
When creating a chatbot or choosing a chatbot platform, it's essential to set realistic pricing limits. Each chatbot tool has a unique pricing arrangement that may be adjusted for each business. While exploring your options, bear the pricing in mind to avoid overspending.
The Future of Chatbots
Chatbots software's are rapidly advancing in functionality and are becoming more and more a part of our lives. Here are some of the latest chatbot trends that we'll be seeing more often:
Internal Use in Enterprises: Chatbots will enable companies to help new employees get acquainted with standard practices. They'll also find use in streamlining workflows.

Sentiment Analysis: Chatbots will be able to analyze the client's tone and offer suitable responses.

Voice Interface: More and more chatbots will be able to converse with customers via voice commands and replies.

Chatbot Payments: Chatbots will be able to automate payments and allow customers to pay directly on the chatbot interface.
Conclusion
Chatbots software are becoming more and more integrated into our lives as technology advances. If your business is looking to make a mark on the landscape, having the right chatbot software will help you meet customer needs and stay ahead of the curve.
What Makes the Best Chatbot Software?
#1
Build and improve your bot conversation flows to engage and increase leads
#2
One bot for Website, Whatsapp, Facebook, and SMS
#3
Nurture your leads faster with built-in CRM
#4
Create bots from rich & advanced template library based on your requirement
#5
Design bots using visual drag-and-drop builder with no code
#6
Use the REST step to integrate your bot flow with your database and backend
#7
Enhance service through advanced reports and revisiting customer conversation history
#8
Share appointment links, allow users to call and chat using built-in tools
#9
Unbelievable pricing - the lowest you will ever find
#10
Everything your business needs - 50 apps, 24/5 support and 99.95% uptime
Join the SaaS Revolution
All-in-One Suite of 50 apps

Unbelievable pricing - $14.99/user

24/5 Chat, Phone and Email Support