How Chatbots Can Help You Streamline Your eCommerce Business
In this article, we provide valuable insights on how you can improve your eCommerce business by using a chatbot.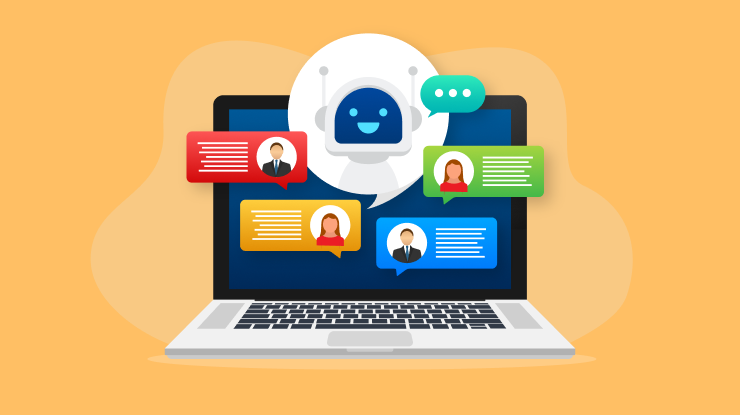 As the business world evolves, companies realize how important the consumer experience is in securing more traction for their business. With chatbots, companies can better interact with consumers on a more personalized level. With improved interaction, they are now able to provide bespoke services that make customers more likely to patronize the company. As the eCommerce industry becomes more competitive, it becomes more critical for every business to maximize every customer interaction.
Chatbots are developing fast. With each day, developers add even more capabilities to these software solutions. With improved streamlining in sales and customer service, businesses stand in a position to record excellent gains for their business by incorporating chatbots. In this article, we'll look at the various ways chatbots can help streamline your own commerce business and boost your sales.
Streamline Your eCommerce Business with Chatbots
Here are some crucial ways a chatbot like BotUp can help to streamline your eCommerce business and facilitate seamless customer experiences:
1. Improve Customer Service
Excellent customer service is critical for good business, as your customers are your source of revenue. It is therefore essential to treat them as kings. Today, customer service is becoming more critical in ensuring that customers continue to patronize your business. And with an eCommerce business, the response to poor customer service may be as simple as typing in another URL to get a given product. In fact, according to the Microsoft State of Global Customer Service Report in 2018, 61% of customers have switched brands because of poor customer service.
Chatbots help in improving customer service by providing excellent, speedy responses. As they are available round-the-clock, customers can obtain support from your business whenever they need it. Additionally, a great chatbot can humanize the conversation with its excellent AI capacities. This allows the customer to have a memorable experience. By creating unique experiences, you have a better chance of convincing the customer to patronize the business in the future.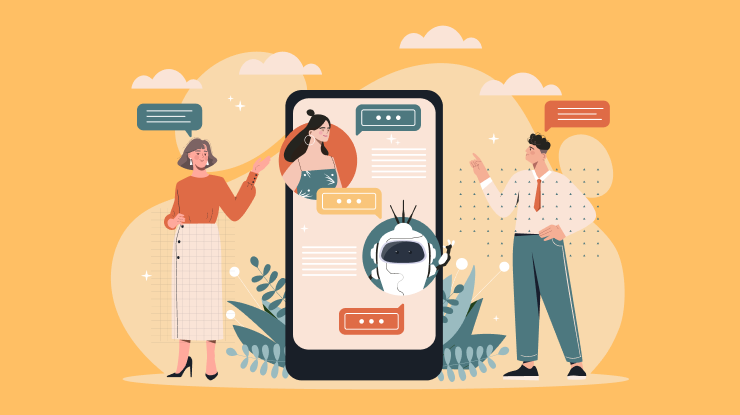 2. Deliver Personalized Experience
Each customer is unique, and so are their needs and preferences. To serve customers well, it's essential to understand their unique needs and pain points. Chatbots collect data about each client with each interaction. With this information, they are able to personalize the interaction further. They can also politely ask questions and use this data to recommend the customer's services and products.
By interacting with a customer on a personal level, chatbots make the interaction more memorable for the customer. Additionally, they can recommend products that the customer is more likely to purchase. For example, suppose a customer says they would like to buy a laptop. In that case, the chatbot can maximize the customer's experience by recommending related items such as laptop cases, chargers, webcams, etc.
By having customer profiles on hand, chatbots are also able to help customers having trouble navigating and deciding what to buy. This streamlines the sales funnel, effectively driving up sales for the business.
3. Increase Customer Engagement
Chatbots interact with customers on a one-to-one basis. With a chatbot, there is no interruption from a colleague or other customers trying to get the worker's attention. It's just the chatbot (your business) and the customer. This uninterrupted communication effectively makes the customer connect better with your business.
Additionally, by recommending personalized services, chatbots improve the relevance of your business to customers. This attracts them more to your business, as they know they can get what they need by visiting your website. For example, suppose your business recommends a great sporting kit to an athlete. In such a case, they would be more likely to trust your business to have excellent sports shoes. All this makes your business more attractive to customers, and they are more likely to return to your company for more purchases.
4. Automate Sales Process
There is no need for customers to wait in long queues or repeat personal details multiple times to a sales representative with chatbots. AI chatbots can now handle every stage of the sales process, from product recommendations to making and confirming orders. Modern chatbots can also process and verify payments, meaning that customers can do every step of the sales process from one place.
With automated sales processes, your eCommerce business can make money without the intervention of a human representative. It's as simple as uploading the chatbot to your website and watching customers pay and obtain goods, hassle-free! And with the convenience that online payment offers, customers are more likely to return to your business, driving sales.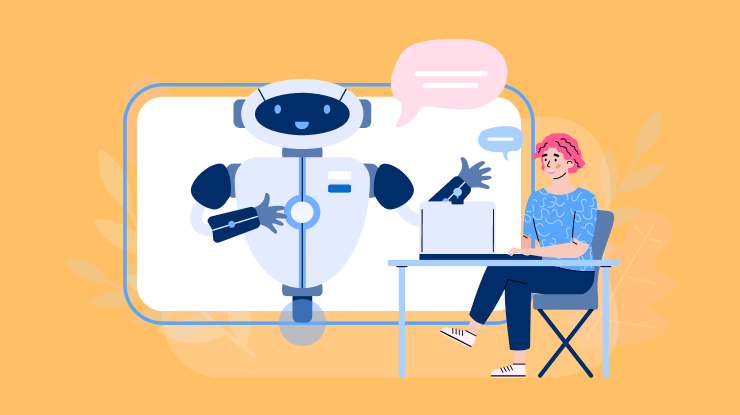 5. Connect With Customers in Real-Time
According to a recent study by SurveyMonkey, 55% of customers say that a major benefit they expect when using a chatbot is instant responses. 64% of customers also affirm that 24-hour service is one of the major perks that encourage them to use a chatbot. With chatbots, connecting with customers in real-time is easy and stress-free. All your customer has to do is visit your website or social media page, and they can get instant, personalized feedback.
Chatbots are always on hand to provide responses or facilitate solutions and ensure that your customers get an around-the-clock experience. This way, customers are assured that your business is always available to provide fantastic service.
6. Collect Valuable Insights
Chatbots are becoming more and more common in businesses. According to statistics published by Acquire, 1.4 billion people now use chatbots on a regular basis. This amazing statistic shows that chatbots are an excellent medium for collecting valuable insights into customer behavior and preferences.
This knowledge has not been lost on businesses and software developers. Several chatbot software now provides in-depth analytics tools to glean customer data and provide valuable insights. With this data, businesses are better equipped to make excellent marketing and product decisions to serve the customer better. Companies can make informed decisions that help drive sales by understanding customer needs better.
7. Personalized Re-ordering Experience
With chatbots, re-ordering goods is extremely easy. Chatbots collect data on customer interactions and send pop-up reminders to customers to re-order specific products. As they have detailed information about the products that each customer needs or ordered previously, they make the experience of re-ordering exact product specifications seamless, saving time for the customer.
Chatbots can also process payments and confirm the customer's order, ensuring the customer gets a smooth and seamless re-ordering experience. This tends to leave a positive impression on the customer, and they'd be more likely to use your service in the future.
8. Faster Replies to Commonly Asked Queries
Chatbots are reliably fast, as they rely on automated systems to receive queries and provide the best responses in fractions of a second. By using a chatbot, you're able to help customers quickly when they are confused, so they do not spend minutes or hours agonizing over small details. According to research by Drift, 37% of customers use chatbots to get quick responses to queries in emergencies.
By providing help to your customers, chatbots provide credibility to your business, making customers more likely to buy from you. Chatbots can also recommend helpful services while providing answers, organically streamlining your sales funnel.
9. Improves Brand Loyalty
By providing a more engaging interaction with your business, chatbots help your business gain credibility with customers. This way, your business is in a better position to gain customers' trust. Several reports confirm that improved customer service is crucial to brand loyalty. Chatbots help streamline the customer experience and boost customer service. With improved brand loyalty due to personalization and excellent service, chatbots help your business drive up sales massively.
10. Easier Order Tracking and Customer Support
With tailored data about each client, chatbots make it easier for customers and businesses to monitor their orders. This helps to ensure that they are always informed about the progress of the delivery. Chatbots can confirm orders and notify customers of deliveries to avoid missing important details. Chatbots can also help businesses confirm successful deliveries, facilitating a seamless transition from ordering to delivery.
Chatbots are also great at providing support when customers face everyday issues with their orders. With excellent service, customers are also assured that your business is competent to provide for their needs. Customers need reliable service, and they'd come back to you when you consistently provide it.
11. Provides Recommendations and Suggestions
Chatbots also facilitate further purchases by providing personalized recommendations and suggestions to customers. This way, your business can give your customers what they want, and they are more likely to engage with your business. More engagement leads to increased brand recognition and loyalty, critical for improved sales figures.
Conclusion
Chatbots are an excellent way of improving your sales and customer service as an e-commerce business. If you're an eCommerce business looking to elevate your game in the industry, visit BotUp to create a custom, highly-responsive chatbot!
What Makes the Best Chatbot Software?
#1
Build and improve your bot conversation flows to engage and increase leads
#2
One bot for Website, Whatsapp, Facebook, and SMS
#3
Nurture your leads faster with built-in CRM
#4
Create bots from rich & advanced template library based on your requirement
#5
Design bots using visual drag-and-drop builder with no code
#6
Use the REST step to integrate your bot flow with your database and backend
#7
Enhance service through advanced reports and revisiting customer conversation history
#8
Share appointment links, allow users to call and chat using built-in tools
#9
Unbelievable pricing - the lowest you will ever find
#10
Everything your business needs - 50 apps, 24/5 support and 99.95% uptime
Join the SaaS Revolution
All-in-One Suite of 50 apps

Unbelievable pricing - $14.99/user

24/5 Chat, Phone and Email Support