Best AI Customer Support Chatbot Service
Consumer expectations are increasing. They demand self-service alternatives, tailored encounters, and a smooth transition from digital to live agents. Customer support chatbots give companies the ability to fulfill these demands while boosting customer loyalty and CX effectiveness.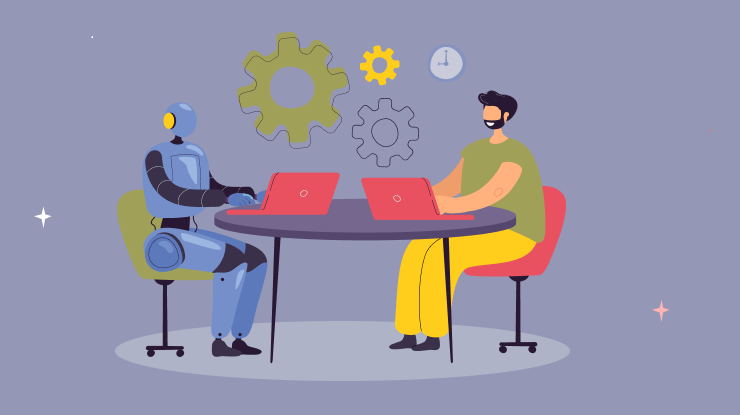 Introduction to Customer Support Chatbot
The customer service chatbots are created expressly to provide functions throughout the customer journey. The clever customer service bot may guide consumers to more information or resources on your website or respond to up to 70% of straightforward, FAQ-oriented customer enquiries.
The additional benefit of such chatbots is that they decrease the volume of contact center inquiries, freeing up customer care representatives to handle more difficult client issues rather than repeating information that might be automated or found in FAQs.
Purpose of Customer Service Chatbot
Your customer support chatbots can be programmed to foresee consumer demands and provide pertinent responses.
To decrease customer turnover and facilitate human handoffs for complex issues, bots can be employed as the first point of contact.
Implementing an AI chatbot can be a smart move if your company frequently receives the same concerns and you want to give customers immediate assistance without keeping them waiting.
Even when chatbots are unable to address an issue right away, they can at least give a quick response that is pertinent to the customer's question and leave a positive impression.
Types of Chatbots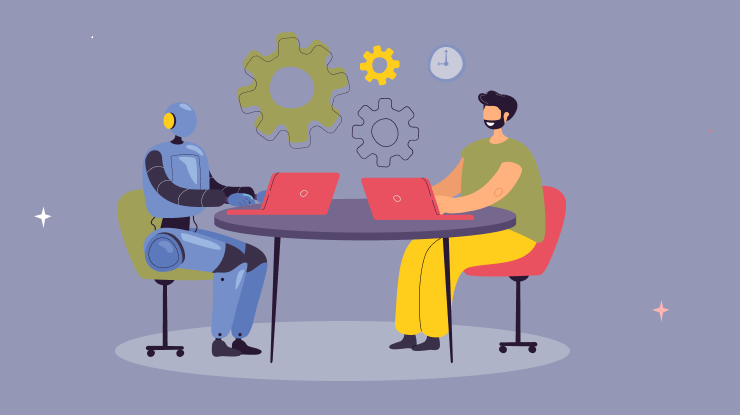 Much like traditional apps, chatbots include application layers, databases, conversational user interfaces (CUIs), and APIs.
There are now 3 popular types of chatbots available:
1. Rule-based Chatbots
The simplest option, these bots merely give a predefined response to extremely specific queries. These bots are excellent at qualifying leads and providing clients with engaging FAQs experiences, for example.
2. Intelligent Chatbots
These smart bots employ machine learning, or """"ML,"""" to gain knowledge from the requests and data of users. Intelligent bots are taught to recognise particular words and phrases that cause a response. Over time, they train themselves to comprehend more inquiries and provide better responses.
3. AI-powered Chatbots
In order to solve user problems, these bots combine the advantages of rule-based bots with the strength of programs with independent minds. They are able to recall conversation context and comprehend user preferences. To comprehend users, these bots combine natural language processing, machine learning, and AI. The use of natural language processing makes interactions between people and machines seem more natural.
Benefits of Customer Support Chatbot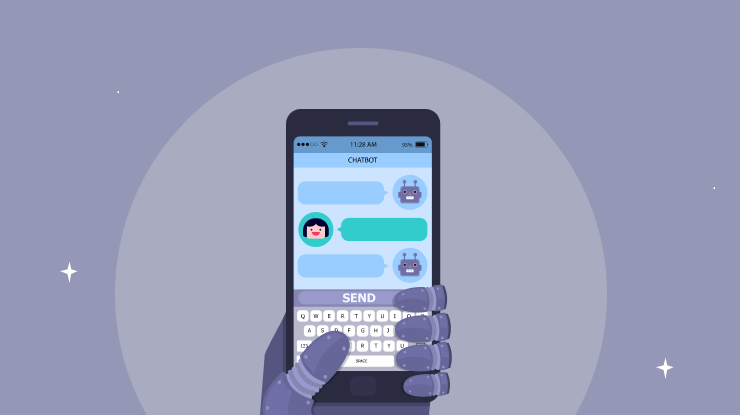 1. Chatbots Offers Instant Resolutions
The chatbots built into Intercom automatically respond to client inquiries by consulting your FAQs and knowledge base articles. By providing pertinent responses based on what users are typing - even before they hit the enter key - Intercom's Resolution Bot goes one step further.
2. Offer 24/7 Customer Support
A chatbot software can fill in for your team if they are not available to answer queries and provide referrals to useful websites. If they are unable to assist, the bot will be able to tell when a person will contact you by indicating your available hours.
Alternatively, you can create a separate """"out of office"""" bot to take over when no one is available to reply if you discover that your bots are receiving a lot of complex questions that nearly always require human interaction. The customer won't have to wait long for a response this way, and as soon as a team member returns, they can respond directly.
3. Chatbots Continuously Learn
Customer support chatbots do more than merely respond to queries with AI. Additionally, they employ it to learn from past experiences and instantly raise the caliber of future assistance provided. A website chatbot software, for instance, can instantly detect that """"where do I add another user?"""" has the same meaning as """"how do I add another user?"""" if it is programmed to respond to questions like """"how do I add another user."""" It can automatically store similar words in its knowledge bank so that similar words will be used in subsequent inquiries.
4. Personalized Solution to Customers
Customers might not be pleased with the same response even if they have the same question. For instance, if a customer on your Enterprise plan inquires about the cost of apps and your bot responds by mentioning your Startup plan, it might as well not have responded at all.
5. Context on Each Customer
Why not use an AI customer support chatbot that is already available and waiting?
Customers may be more inclined to inquire when they encounter chatbots as opposed to simply browsing and being a """"invisible lead"""". You have a customer's information in your system after the initial point of contact. This is a terrific place to start since, should they contact you again, your agents will be able to leverage the conversation history to better understand their needs and guarantee that their initial query was addressed.
6. Consistent User Experience
Finally, customer support chatbots can assist you in giving your consumers a consistent, on-brand experience. There won't be any """"we don't say that"""" scenarios because you have complete control over the voice, tone, and vocabulary used in your bot's responses.
Working of AI-Powered Customer Support Chatbots
The user's speech or text is transformed into structured data by an online chatbot. This is then used to select an appropriate response. The following processes are a part of natural language processing:-
1. Tokenization
The NLP breaks down a list of words into tokens or chunks that are linguistically representative and have a distinct meaning depending on the context.
2. Sentiment Analysis
When necessary, it will analyze and learn from the user's experience and pass the inquiry to a person.
3. Normalization
This program model scans the text for frequent spelling problems and typographical issues that could change the intended meaning of the user's request.
4. Named Entity Recognition
The chatbot's program model searches for several word categories that are similar to the names of the particular product, the user's address, or their name, depending on the information that is needed.
5. Dependency Parsing
The chatbot searches the user's text for subjects, verbs, objects, common phrases, and nouns to find sentences that are similar to what the user is trying to say.
What makes BotUp the Best Customer Support Chatbot
With the help of BotUp, you can quickly and easily build robust chatbots for your company without knowing any programming languages. These customer support chatbots may help consumers by automatically answering their repeated questions so they don't have to wait for a real representative to respond.
BotUp's AI-driven customer support chatbot can be utilized for a variety of tasks, including content creation, marketing, and sales. Utilizing pre-built, sector-specific chatbot templates that are simple to adapt to your company's needs, you can build chatbots for WhatsApp, your website, SMS, Facebook, Instagram, and Slack.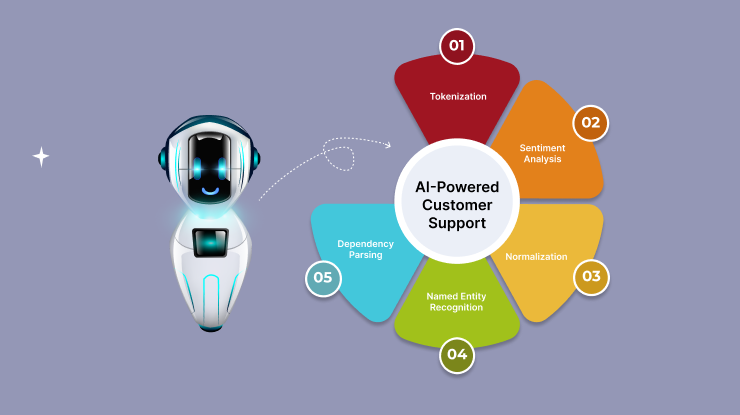 All-in-One Chatbot
Beyond your website, social media, email, and surveys, one bot may manage all client inquiries from various sources.

Drag-and-Drop Builder
With the use of our drag-and-drop visual flow builder, you can create customized, AI-powered experiences without scripting.

Generate Leads Engage your prospects more quickly and use a smarter lead generation strategy to shorten the sales cycle.

Scheduling
Make it simple for visitors to book an appointment without any help from a human being, every day of the week, 24 hours a day!

Zap Technology
All rules are carried out by BotUp at the user's side, resulting in incredibly quick reaction times.

Website Chatbot
For your website, develop a chatbot to enhance customer service and guide visitors to the most pertinent pages.
Conclusion
The customer support chatbot is connected to the database for numerous applications. The chatbot is supported by the database, which also provides each user with the proper responses. Development of customer support chatbots makes use of NLP programs, programming interfaces, and services to enable all kinds of businesses, whether they are tiny, medium-sized, or large-scale ones.
What Makes the Best Chatbot Software?
#1
Build and improve your bot conversation flows to engage and increase leads
#2
One bot for Website, Whatsapp, Facebook, and SMS
#3
Nurture your leads faster with built-in CRM
#4
Create bots from rich & advanced template library based on your requirement
#5
Design bots using visual drag-and-drop builder with no code
#6
Use the REST step to integrate your bot flow with your database and backend
#7
Enhance service through advanced reports and revisiting customer conversation history
#8
Share appointment links, allow users to call and chat using built-in tools
#9
Unbelievable pricing - the lowest you will ever find
#10
Everything your business needs - 50 apps, 24/5 support and 99.95% uptime
Join the SaaS Revolution
All-in-One Suite of 50 apps

Unbelievable pricing - $14.99/user

24/5 Chat, Phone and Email Support