12 Reasons to Use a Chatbot Maker for Your Business
Chatbots have become indispensable in today's tech-driven environment because they provide clients with an intuitive and convenient approach to obtain the information they require. And it's not just about customer service - in this article, you'll learn about the reasons for using a chatbot maker for your company.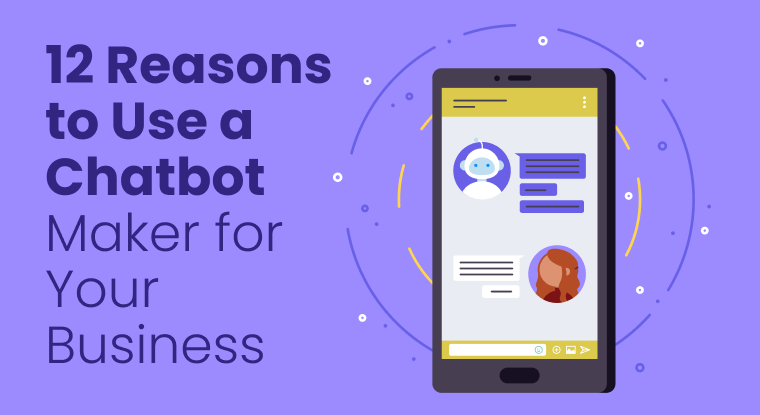 If you're looking to upgrade your business in 2020 without breaking the bank, chatbots may be the answer you're looking for. There are many reasons for that, which we will go into in more detail below, that all lead back to saving time and money. With the current, nearly universal, worldwide economic struggles, this can help organizations finish out the year strong.
Chatbots are software-generated programs created to simulate human interactions with either voice or text conversations. They can interpret what a user is asking or stating and reply based on the information it has stored provided by their developers. Artificial Intelligence(AI) makes chatbots smarter that can learn as they have conversations with customers and prospects.
Though there are many reasons to implement chatbots for your business, we'll look at the top 12 reasons we found below.
12 Reasons to Use a Chatbot Maker
1. Answer Frequently Asked Questions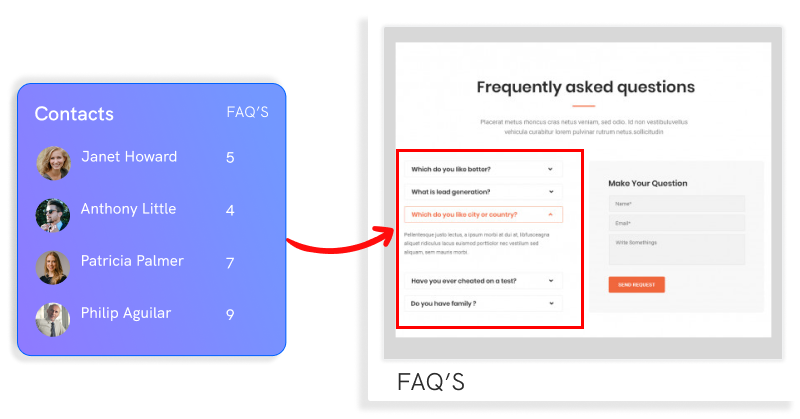 Even the simplest chatbots can be programmed to answer your frequently asked questions. By programming your chatbot with your company's FAQs, you'll be able to weed out many of the initial customers who contact your customer service.
2. Save Time for Everyone
Chatbots will significantly reduce the amount of time customer service and other staff spends on customer inquiries, so they can focus on other, more intricate tasks that need a more human touch. This saves time for both staff and customers, increasing satisfaction all around.
3. Enhances Brands
With the expansive knowledge a chatbot can store and share about products and organizations, they will not only make you look good, but they'll also be the best brand ambassadors you could imagine. Customers will be impressed with your problem-solving ability as an organization.
4. Cost-Effective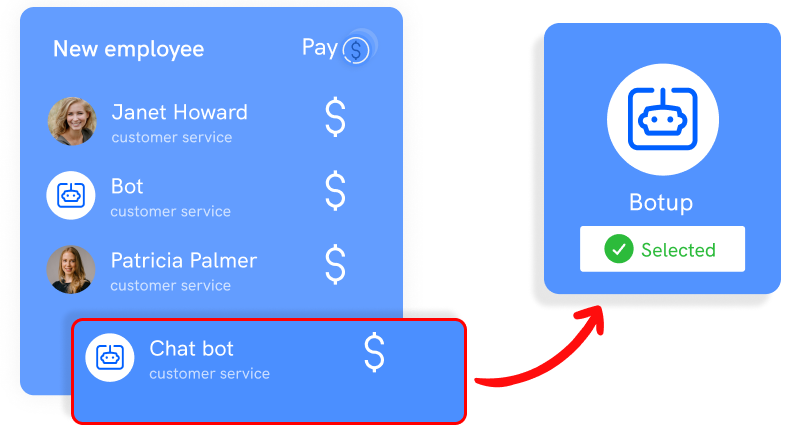 Much less expensive than hiring a new employee to handle customer service inquiries. The software itself, if chosen wisely, is inexpensive, and there is no need for highly trained developers on staff or contracted to set them up.
5. Boost Operational Efficiency
Chatbots can handle much more than their human counterparts. However, they can also triage inquiries as they come in to send them directly to the person who will help them instead of being sent from person to person within the company.
6. Easy to Use
Chatbot implementation is straightforward, without code or advanced development knowledge. Plus, once they are in place, they are easy to maintain, update, and manage. Depending on how complex a chatbot you would like to implement, you'll need to provide different levels of information. However, with the ability to design your chat flow, it's accessible no matter which one you choose.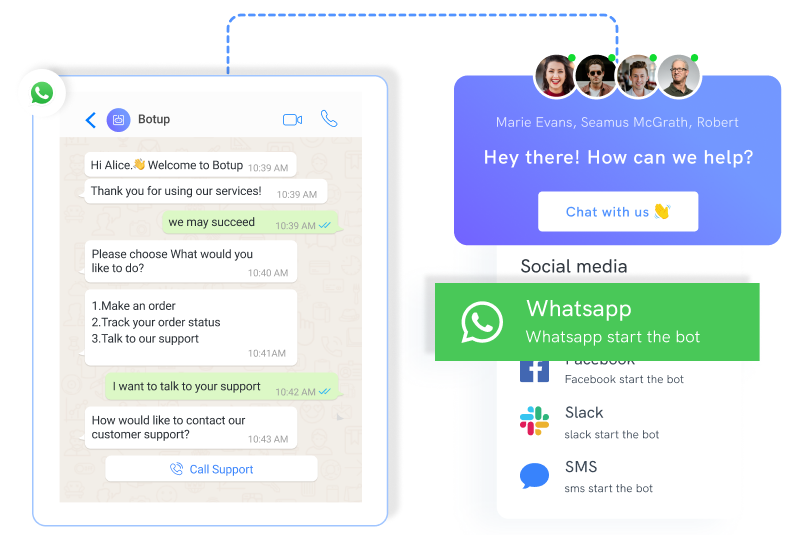 7. Always Available
Want your customers to be able to reach you after hours and on weekends and holidays but don't want to pay them overtime? Chatbots are the perfect solution. Available 24/7 to answer questions immediately and accurately, your customers will always be able to get in touch with you.
8. Customer Engagement
With immediate responses resulting in customers not having to wait for a reply on a messaging platform or via email, the result is much better customer engagement. Engaged customers are much more willing to purchase and promote your organization and your products, making chatbots even more effective in the long run.
9. Familiar Platforms
Customers and prospects don't need to download and learn new apps to communicate with your organization through chatbots. Chatbots are integrated into existing message platforms that are likely already familiar with, like Facebook, Slack, Whatsapp, and SMS messaging.
10. Improve Customer Loyalty
Satisfied customers are more likely to become loyal customers. Since you can answer their questions or at least reply immediately, any time of day or night, you are bound to have improved customer loyalty.
11. Minimize Human Error
Even the best of us make mistakes sometimes. However, chatbots don't unless they are programmed incorrectly by humans. Chatbots greatly minimize the chance of human error by providing accurate and timely information.
12. Analytics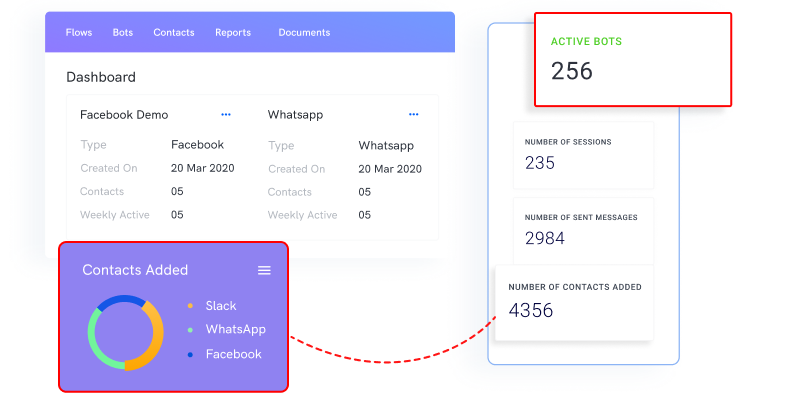 Chatbots can offer analytics vastly superior to information that humans can retain and input for future knowledge and use. Analytics can be pulled from a database that includes information such as who your chat customers are, which chatbots are the most effective, and which chat flows are performing best for you so you can optimize your chatbots easily.
Top Chatbot Solution
Above are the top 12 reasons we have determined most businesses can benefit from chatbots and are compelling reasons to consider them. However, choosing an enhanced chatbot software solution such as BotUp by 500apps will give you even more options, making your decision more straightforward. BotUp's advanced features include:
A visual, drag-and-drop designer
Customizable chat flows
Implement chatbots into various popular platforms
Powerful lead nurturing

Insightful analytics and report generation

Robust integrations Plus, as part of the 500apps Infinity Suite of productivity apps, you'll have the option to choose several or all of the apps offered by 500apps for one low monthly price.
Conclusion
According to Business Insider, companies need to make sure their chatbots not only mimic human agents in conversation, but they should also be able to address customer's needs appropriately. As obvious as it sounds, the focus isn't always on the right path. Ensuring you have the right software to implement your chatbot will help you stay focused and help your customers and staff save time and money. These 12 reasons should help you understand what benefits businesses most and might be enough to convince you that it will help you too. If you need more convincing, visit the BotUp features page and learn more about how we can help.
What Makes the Best Chatbot Software?
#1
Build and improve your bot conversation flows to engage and increase leads
#2
One bot for Website, Whatsapp, Facebook, and SMS
#3
Nurture your leads faster with built-in CRM
#4
Create bots from rich & advanced template library based on your requirement
#5
Design bots using visual drag-and-drop builder with no code
#6
Use the REST step to integrate your bot flow with your database and backend
#7
Enhance service through advanced reports and revisiting customer conversation history
#8
Share appointment links, allow users to call and chat using built-in tools
#9
Unbelievable pricing - the lowest you will ever find
#10
Everything your business needs - 50 apps, 24/5 support and 99.95% uptime
Join the SaaS Revolution
All-in-One Suite of 50 apps

Unbelievable pricing - $14.99/user

24/5 Chat, Phone and Email Support