Build Innovative AI Chatbot Online
Chatbots greet website visitors, assist them in navigating the site, and provide quick, straightforward responses to any questions they may have regarding the goods and services.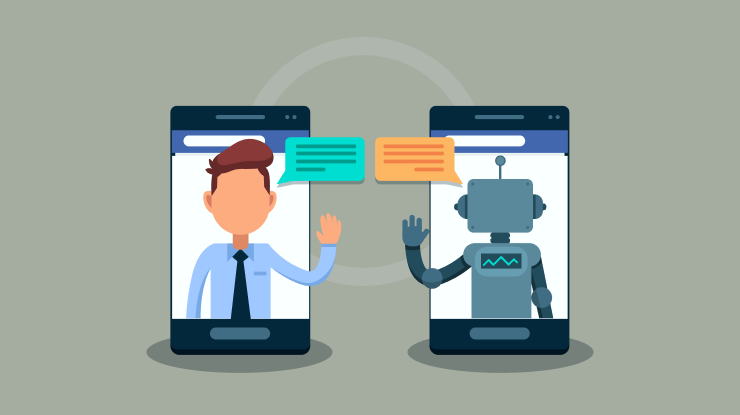 Introduction to AI Chatbot Online Solution
Instead of speaking directly to a real human agent, a chatbot uses software to have text- or text-to-speech discussions with users. Platforms for chatbots often need ongoing testing and refining in order to accurately mimic human behavior as a conversation partner.
Fortunately, a lot of free chatbot platforms for startups and small enterprises are now available on AI chatbot online platforms. If you're a startup or a small business owner/manager who wants to use the technology without having to pay a premium, you're in the right place since we'll talk about those in this post.
List of AI Chatbot Online Tools
BotUp
A chatbot programme called Botup by 500apps operates only during conversations. To convince you to make a purchase, place an order, or engage in some other activity, it employs natural language processing. You may create chatbots and create a digital workforce with the help of the Botup chatbot builder to increase productivity and efficiency. To nurture quality leads from Slack, WhatsApp, Facebook Messenger chatbot, SMS, and websites, use chatbot lead creation software. In order to improve optimization, segment a large database of visitors, and increase conversion rates and user experience, chatbot reporting and analytics software are used.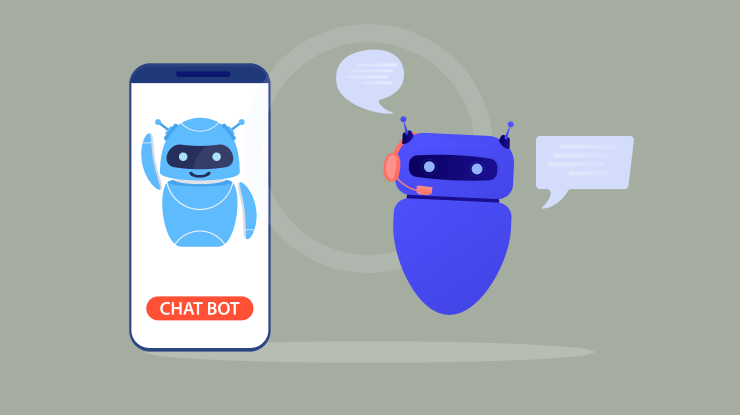 Pricing
Plans for Botup start at $14.99 per month. It comes with all of the free capabilities, an infinite number of running chatbots, chatbot templates, a visual chatbot editor, and a single price for all of the 30+ apps.
Features you get in Free Plan
Build bots
Capture leads
Access templates
Automate conversations
Website chatbot
Supports Facebook Messenger
Live chat
TARS
TARS is a top-notch AI chatbot online platform featuring a drag-and-drop chatbot builder option that you can use to make chatbots for websites. It is simple to use and doesn't require any programming knowledge. There are more than 600 templates available for various industries, including finance and banking, insurance, healthcare, education, and more. The chatbot creator, TARS, focuses on creating bots that provide leads and benefit your marketing initiatives. It makes use of NLP (Natural Language Processing) technology, which accepts responses from users in their own terms and sends forth complicated messages that answer questions.
Pricing
TARS prices start at $83.25/month when invoiced yearly. Although there isn't a free plan, you can sign up for a 14-day trial instead. One of the top chatbot platforms available is this one.
Reve Chat
If you're seeking for the best AI chatbot online platform without complicated features, Reve Chat is a great choice. Numerous applications, like Facebook Messenger, Viber, Shopify, etc., can be integrated with Reve Chat. Real-time interaction with your consumers by an AI chatbot online platform ensures their delight and a wonderful customer experience. Excellent customer service requires that you communicate with your clients across a variety of platforms.
Pricing
For a one-year subscription, you save 10%, and for a two-year subscription, you save 20%.
Salesforce Einstein
AI chatbot online solution, Salesforce CRM, has AI technology if you want to receive superior insights from your data. Einstein develops models based on data and provides analyses and advice so you can respond appropriately. You may include artificial intelligence (AI) into every work process using natural language processing (NLP) and machine learning. Additionally, they provide unique AI chatbot online software across various digital platforms to enhance business performance.
Pricing
The type of service, such as sales, marketing, or commerce, will determine the answer.
It can range from $25 to $30 per user per month to hundreds of dollars for bundles.
They provide a printable cheat sheet with comprehensive service and cost information.
HubSpot Chatbot
If you need free chatbot software that can schedule meetings, qualify leads, and offer customer service, the HubSpot chatbot is for you. The good news is that you can download it without paying a dime, unless you desire advanced features. The HubSpot bot, for instance, is coupled with your database to deliver customized dialogues. Customer pleasure is the result of personalized conversations. Additionally, HubSpot AI chatbots can free up your customer service teams' time so they can concentrate on having meaningful discussions with customers by evaluating data and qualifying leads.
Pricing
A cost-free subscription with unlimited, customized conversations that is simple to set up.
The introductory plan is $45 per month.
A professional package costs $450 per month at first.
Enterprise plans begin at $1200 per month.
Watson Assistant
Watson Assistant is your assistant or your "intelligent virtual agent" from IBM. It provides many services and is helpful for companies on so many levels. For example, an AI chatbot online app starts conversations with users across websites, messaging applications, etc. It also keeps your data protected by ensuring you can control who accesses it.
Pricing
You get all you need to get started for free with Lite.
The price of the Plus plan with a 30-day free trial is $140 per month.
The cost of Enterprise is determined by your demands and goals.
Tidio
Tidio Chatbot is a fantastic choice for small and medium-sized organizations looking to develop first-rate customer service. It is an all-inclusive marketing and communication tool that requires little work to deliver an exceptional customer experience.
Without any coding experience, adding Tidio Chatbots to a website may be done in about 5 minutes. The widget may fit in with the design of any website and have a distinct ""personality"" thanks to the bot's high level of personalization and ease of customization.
With chatbots and a live chat feature, Tidio's freemium version offers a basic package that is always free.
How to Choose the Right AI Chatbot Online Tool for Your Business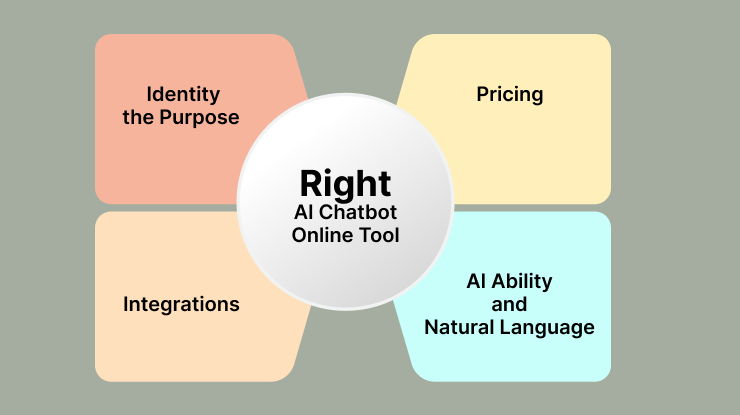 1. Identity the Purpose
Businesses need to be aware of the chatbot's intended function and how it might benefit them. Before choosing a choice, you should think about the following usage situations.
B2C customer acquisition
B2B buyer enablement
B2B sales acceleration
B2B demand generation
B2B account-based marketing
Customer support and service
2. Pricing
Cost must be taken into account as well when deciding on a certain chatbot platform. There are many different kinds of pricing models on the market, so you should examine them all carefully and consider what makes them unique.
3. Integrations
Businesses that are introducing a new chatbot will undoubtedly want to maximize its potential. Businesses must choose a chat platform with the appropriate connectors in order to accomplish this. This requires that the marketing tools be able to be smoothly integrated with the current workflows.
4. AI Ability and Natural Language
Before choosing a chat platform, businesses must take into account its natural language capabilities and AI capabilities. You must choose between a system that can handle free-form text and a wholly deterministic system that runs strictly according to rules.
Final Words
This list contains the top AI chatbot online software for businesses. The majority of these services are completely compatible with any program or website. Some service providers, however, only provide sophisticated chatbots. Others offer more complex functions, such as analytics or vision, for analyzing what customers are saying about your company or products on social media platforms.
Your aims, goals, and financial constraints will determine which AI chatbot online platform is best for you. So whether you want to make more sense of your data or just want a bot to answer a question at midnight, choose wisely the finest customer service chatbot for your industry and take advantage of the conveniences and value artificial intelligence can provide.
We highly recommend choosing the powerful AI chatbot online tool, Botup for your business. Visit 500apps today and learn more about it.
What Makes the Best Chatbot Software?
#1
Build and improve your bot conversation flows to engage and increase leads
#2
One bot for Website, Whatsapp, Facebook, and SMS
#3
Nurture your leads faster with built-in CRM
#4
Create bots from rich & advanced template library based on your requirement
#5
Design bots using visual drag-and-drop builder with no code
#6
Use the REST step to integrate your bot flow with your database and backend
#7
Enhance service through advanced reports and revisiting customer conversation history
#8
Share appointment links, allow users to call and chat using built-in tools
#9
Unbelievable pricing - the lowest you will ever find
#10
Everything your business needs - 50 apps, 24/5 support and 99.95% uptime
Join the SaaS Revolution
All-in-One Suite of 50 apps

Unbelievable pricing - $14.99/user

24/5 Chat, Phone and Email Support