Ultimate Guide on How to Build Facebook Chatbot
An artificial intelligence program known as a chatbot can converse with clients on your behalf and can have pre-written answers to frequently asked questions. In this article, you will learn how to build Facebook chatbot for your business.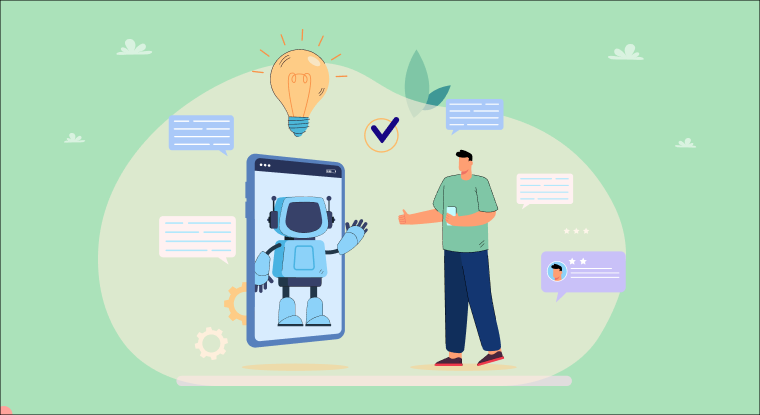 Introduction on How to Build Facebook Chatbot
Here's how you can make use of facebook chatbot
1. Build Brand Awareness
Most likely, a potential customer liked your Facebook page because they liked a photo you posted. Additionally, it's obvious that they came across your company somewhere and chose to follow your page. But it's possible that they will quickly forget about your company in the sea of sites they view on their newsfeed.
Now, the question is, should you let them go? Definitely not. By interacting with them via live chat, build Facebook chatbot to make sure that prospective customers remain aware of your business.
2. Improve Your Customer Experience
42 percent of clients, according to The Social Habit, expect you to respond to their social media questions within a half-hour. Any delay puts your customer at danger of becoming offended. Not to mention that if you delay in responding, your customer might start looking elsewhere.
3. Enhance the Customer Experience
You're already enhancing customer service and experience by responding to your audience's questions right away. But that's only the beginning of what the Facebook Messenger bot can do.
4. Nurture Leads
A Facebook Messenger bot can significantly improve your conversion rates as well. How? By developing a connection with your audience.
Features of Facebook Chatbot Include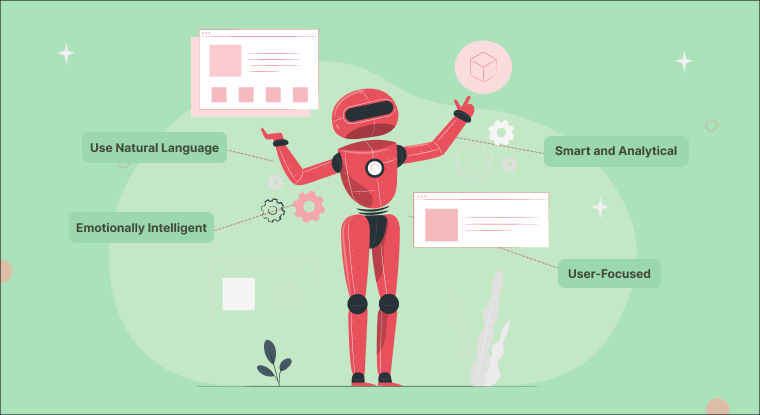 1. Use Natural Language
The customer service Chatbot that sound robotic are donkeys, whereas those that sound human are unicorns. Users never want it to feel like they're communicating with a bot, even when they are aware that they are. Emojis, conversational language, and possibly even GIFs are used by the greatest bots.
They are compassionate; for instance, if a user has a problem, the chatbot will be able to identify it and say, ""I'm sorry!"" in a very human-like manner.
2. Emotionally Intelligent
Your ai chatbot needs to be emotionally intelligent in addition to being able to respond to frequently asked inquiries. In addition to sensing a user's mood and responding properly, an emotionally intelligent chatbot can also determine whether to automatically escalate a discussion to a live support representative.
3. Smart and Analytical
Based on previous conversations, they could anticipate what a user would require next and, where appropriate, offer solutions. The online chatbot should additionally be able to answer in many languages.
4. User-Focused
The users should always come first in all that the chatbot is supposed to achieve. The user experience should be enhanced by the chatbot's ability to successfully provide users with solutions before they even ask for them.
Additionally, a messenger chatbot has to be able to provide consumers with a variety of tappable responses.
Steps to Build Facebook Chatbot from Scratch
These steps will walk you through choosing the best chatbot provider and creating a conversational flow.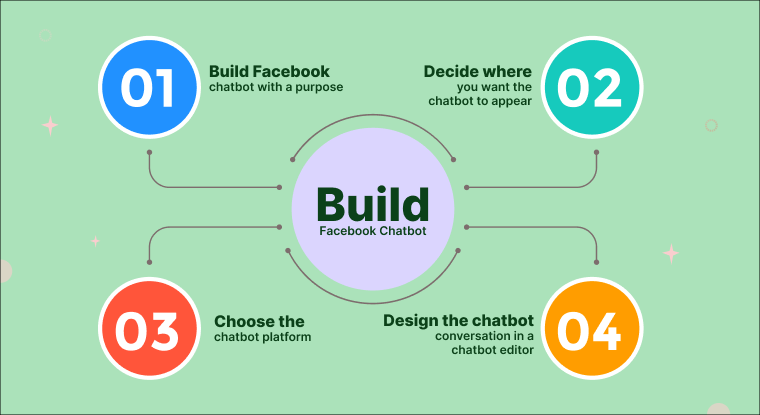 Step 1: Build Facebook chatbot with a purpose
Define the tasks you want your chatbot to perform. The best is to be more specific.
Start to build Facebook chatbot by asking yourself these few questions:
What purpose does the Facebook chatbot serve?
Customer support automation

Improving customer experience

Lead generation
What are the most common use cases for your customers? Examine your questions, then list a few instances. What would you consider the key function of an online chatbot to be? Does it automatically respond to questions? Sending the inquiries to the assistance group?
Keeping track of abandoned carts or screening leads?
It will be a lot simpler to determine the features and categories when you build Facebook chatbot that answers your customer inquiries.
Step 2: Decide where you want the chatbot to appear
What medium do you primarily communicate through? Do most of your consumers reach out to you through social media or a live chat feature on your website? To serve your consumers where they are, in any case, make sure the website chatbot software of your choice interfaces with the technologies you already use.
Your website. Most systems for creating chatbots feature connectors with well-known website builders like Shopify, Magento, or WordPress.
Your social media platforms, such as Telegram, Instagram, Facebook Messenger, and WhatsApp. For now, we go with Facebook.
Additional communications services and applications you use. As an alternative, see if you can set up the integration on your own using a code snippet or an accessible API.
You may build Facebook and connect with third-party applications that many chatbot creation platforms provide.
Step 3: Choose the chatbot platform
It's time to choose the provider now that you know what chatbot variations you want to build and which channels you want to support.
The framework or the platform are your two choices.
AI frameworks The chatbots are created by software engineers using chatbot software frameworks as libraries.

Chatbot platforms They offer simple chatbot builders that let you build Facebook chatbot from scratch. They have become more and more popular and creating chatbots with their assistance is considerably simpler and takes much less time while producing equivalent outcomes.
Step 4: Design the chatbot conversation in a chatbot editor
Build Facebook chatbot through drag and drop, to arrange them in a sequence to generate the conversation flow. Assume you want to obtain visitors' email addresses in exchange for a product discount when they visit a specific landing page of your store.
Log in first, then head to the bot builder. Start with the trigger, which is a circumstance that prompts the chatbot software to send a greeting. Start with a visitor landing on a specific page node if you want the chatbot to appear on a certain landing page.
Write the message you wish to convey, after which you should add a decision node with prompt responses. For both individuals who desire a discount on your product and those who don't, create separate messaging.
That's it! This is how you build Facebook chatbot and more.
Summing It Up
An excellent customer service medium is Facebook Messenger. In order for organizations to keep ahead of the competition, it is imperative that they build facebook chatbot and include it in their customer service plans,facebook and automate conversations.
You should be aware of the importance of incorporating Messenger bots powered by AI into your customer care plan and utilizing them to hasten the expansion of your company.
Ask our experts if you have any questions on how to provide outstanding customer service and build Facebook chatbot using Botup.
What Makes the Best Chatbot Software?
#1
Build and improve your bot conversation flows to engage and increase leads
#2
One bot for Website, Whatsapp, Facebook, and SMS
#3
Nurture your leads faster with built-in CRM
#4
Create bots from rich & advanced template library based on your requirement
#5
Design bots using visual drag-and-drop builder with no code
#6
Use the REST step to integrate your bot flow with your database and backend
#7
Enhance service through advanced reports and revisiting customer conversation history
#8
Share appointment links, allow users to call and chat using built-in tools
#9
Unbelievable pricing - the lowest you will ever find
#10
Everything your business needs - 50 apps, 24/5 support and 99.95% uptime
Join the SaaS Revolution
All-in-One Suite of 50 apps

Unbelievable pricing - $14.99/user

24/5 Chat, Phone and Email Support