Grow Your Business with Chatbot Marketing Tips
Looking for new ways to boost your business? Why not try chatbot marketing? Here are a few tips to help you along with chatbot software for marketing.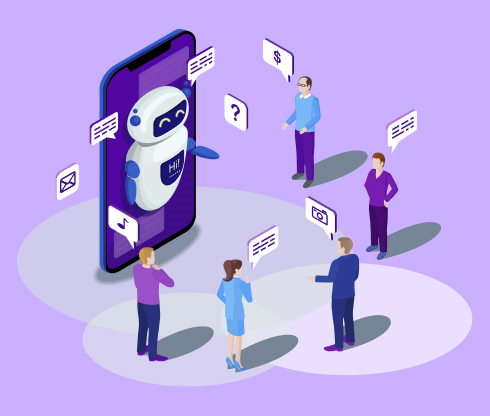 Chatbots have been a useful resource to businesses and enterprises recently. This is a result of the ever-active and interactive nature of this software. Chatbots are rapidly being used by online businesses in a variety of ways. Businesses use chatbots to engage site visitors, respond to consumer inquiries, and generate leads. Chatbots have developed from the software that gives ready and preprogrammed responses to software that can interact with customers and handle more complex tasks.
Chatbots are artificial intelligence programs that imitate discussions or interactions with customers or users in the language of their choice. Chatbots have the clear advantage of making consumer interactions easier and more comfortable while putting less burden on human employees. Chatbots analyze user requests and respond to them simultaneously as if a human was controlling them.
What Exactly is Chatbot Marketing?
The importance of chatbot software to a business's growth has given rise to Chatbot marketing. Using the services of chatbot software to sell and market your business is what this is all about. Chatbots are excelling in various sectors today, from engagement to support and essential services, and enterprises should consider using chatbots to provide business advantages through improved messaging. Chatbot marketing aims to respond to support queries and initiate discussions with website visitors as needed. It may assist businesses in using customized messaging to advertise their products or services to enhance consumer engagement and brand visibility.
There are various methods for businesses to generate traffic to their chatbot, and none of them are unfamiliar to marketers. The first step is to decide which message to convey in a conversation, whether it's about a product, a price, or a promotion. The latter is the usual method of generating awareness since it involves making an offer or a discount that encourages people to start a conversation.
The value to the business comes from the sale and the additional data collected during the discussion, which can be put into analytics systems to assist and improve marketing messaging and validate success goals. Building a following and establishing the chatbot as a source of interest, amusement, or authority will keep people coming back. Advanced features such as artificial intelligence (AI) may give translations for a wide range of audiences and connections to other businesses, making it a more comprehensive business tool.
Of course, there are advantages and disadvantages to using chatbot marketing. A smart chatbot will never be able to replace a good salesperson's years of expertise and talent. Still, your greatest salesperson cannot talk to thousands of individuals at once, remember them all, and work around the clock. Christie Pitts, the general partner at backstage capital and a former development manager for Verizon ventures had this to say;
"Chatbots represent a new trend in how people access information, make decisions, and communicate"
Whatever marketing strategy your bot will support should be created and intended to thrive in an ever-changing environment that corresponds to current and future marketing strategies. Build the bot as if it were a team member, with a personality and intellect to impress and deliver for the client. It should be a valuable tool, especially for teams with limited resources. A perfect chatbot software to try is BotUp. It is a software that builds chatbots for your team on Facebook, Slack, WhatsApp, SMS, and your website using this robust platform.
Questions that Arise with Chatbot Marketing
Some common questions arise in the implementation of chatbot marketing. Such questions as;
Do Chatbots Increase Sales?
Yes, they do. The BotUp chatbot software assists in the lead generation process. You can use chatbots to learn about your customer's wants and link them to the business solutions you offer.
How can I Improve My Chatbot?
Make the chatbot the focal point of your digital engagements, including applications, social media, and websites, as well as emails and social marketing. People currently embrace bots and are accustomed to using them as the first point of contact. Your bot will get acceptability as long as it represents the brand appropriately and produces enough good outcomes. With BotUp CRM, live chat, helpdesk, and much more may all be integrated. For strong automation, you can connect your BotUp software to your backend database or online services.
How Much Does a Chatbot Cost?
A basic chatbot may be developed for free in a matter of days. More sophisticated AI-powered bots may require training that takes weeks and costs a lot of money. The more sophisticated the bot, the longer it will take to construct and the more integrations it will require with other technologies, increasing the cost and necessitating expert development abilities.
Tips to Grow Your Business Through Chatbot Marketing
Identifying the Common Queries
Customers frequently ask certain questions. To save time and generate sales leads, you may employ chatbot software to respond to these questions. But first, you must understand what these frequently asked questions are. You won't have to search far to find that knowledge. Your customer service crew is a wealth of knowledge. They handle consumer inquiries all day, so they're familiar with the kind of questions they get.
Social media teams may also be excellent sources of information. Go to your company's social media page. People may ask inquiries on a brand's Facebook page or even message the company directly. Inquire with your marketing staff about your consumers' problem concerns. You may also put these frequently asked questions in a FAQ section on your website. Identifying these common questions will aid the chatbot software in knowing what to address in its chatbot marketing strategy
Personalize your Chatbot
To get the most out of your chatbot marketing, make it more customized. Certain information, such as a customer's name and location, can be predicted by your bot and provided automatically (through geolocation or directly by asking the customer). Providing such a service saves the consumer time and makes them feel valued. You can do a lot more with your chatbot than personalize it. Chatbots can provide you with a wealth of information about your company. It can tell you what people's interests are based on chats with them. When a person asks the chatbot about shoes often, it's fair to infer they like them. What difference does it make if the consumer already knows that information?
You may then give them material that is specifically customized to their need. So, the next time they visit your website and chat with your bot, your bot will immediately send them all of the information it has on the shoes you offer. You may also customize your website with this information. In Gmail, use the same data to send regular emails to your subscribers. As the best way to market and advertise is knowing what the customer wants, chatbot marketing will be more effective when the chatbot software is tuned to the needs of each customer.
Make the Conversation Flow
When a chatbot is given a precise set of questions to answer, it works best. Those inquiries should be based on what you learn about your clients and their frequently asked kind of queries. A conversational flow is a chart in which a user is given a specific response based on their response. However, before you can design a fantastic conversational flow chart, you must first define the personality of your chatbot software. Do you want your chatbot to be pleasant to interact with? Your responses will influence the tone and wording of the chat.
Ascertain that the chatbot's personality is consistent with your brand's tone. It's time to build the conversational sequence after you've decided on your chatbot's personality. Return to your clients' most popular questions. In your flow, they will be the questions. However, the questions would need to be adjusted. Make them shorter and to the point, if they're too long. Chatbot responses must also be brief. Keep in mind that the conversational flow should follow natural patterns. Before deploying, test the conversational flow. Figure out what works and what doesn't, then make changes.
With BotUp you can get more work done when you create chat flows. Creating chat flows helps to make the conversations more meaningful. You can customize your Bfotup chatbot software to meet your specific needs in order to increase client engagement and interactions.
Live Chat Features
Chatbots can answer basic questions, but more often than not, only people can solve more complicated issues. To give the finest service, you'll need a combination of the two.
So, how would that function in practice?
If a consumer asks simple inquiries, the chatbot can answer them all. Your human agents can take over if anything more complicated arises. Having both choices increases your service quality. When a consumer asks a question, they get fast responses. Furthermore, you can be certain that your staff will offer the level of service you require with this combination. Your human agents aren't overburdened since the chatbot filters the inquiries that come in. That implies they'll be pleased to assist your consumers when they eventually meet them.
Make use of Newsletters
Email marketing may appear obsolete to some clients and clogs their inboxes. Instead of sending newsletters through email, why not utilize chatbots? But, first and foremost, how can you convince clients to subscribe to your content? Assume your chatbot has responded to a client question. It can then request the consumer to send newsletters. If the client opts in, the company can begin delivering the newsletters at the frequency specified by the customer. Chatbot newsletters are beneficial since they allow you to cultivate your client connections. Furthermore, they retain people on your website or social media account for a longer period. The longer they remain, the more likely they are to convert.
Track the Performance of your Chatbot Marketing
Stay updated on your chatbot software's performance. If the chatbot is functioning well, it should minimize the number of human operators required. There are a few more measures you should check into. Checking the number of links visited, for example, is a good way to see if your chatbot is delivering value and sales leads. This may be accomplished by utilizing the UTM codes included in the linked material. You may also keep track of your chatbot's general activities. Poor performance is indicated by low chatbot activity.
But why should you care about the performance of your chatbot marketing in the first place? If required, this can assist you in making the necessary modifications to improve the service. So, if your chatbot engagement is minimal, you may make it more enjoyable to communicate with. Alternatively, if your human agents are still receiving too many simple questions, you may enhance the conversational flow of your chatbot.
Meeting Scheduling
Booking customer meetings is an important aspect of the marketing process, and companies who excel at it generate more leads. However, scheduling appointments is a time-consuming process, and doing it manually may cause your personnel to become overburdened, leaving them with no time to deal with more complicated issues. To avoid this issue, you should use automation since chatbots are an excellent technique for reducing meeting time. Chatbot marketing makes it simple to plan, alter, and cancel meetings without human assistance, which can help with sales. More significantly, a bot that has access to your calendar schedule and meeting preferences can assist you in receiving the invitation.
You may save time by automatically searching up everyone's schedules, which is one of the advantages of scheduling meetings using a marketing chatbot. Instant access to meeting schedules will be possible. Participants can vote on the optimal time for a meeting using bots. Businesses can no longer afford to overlook the use of chatbots in marketing. Consumer demand is quite strong. They will move to a rival if they do not have immediate access to assistance.
Using BotUp as your preferred chatbot software allows you to have additional benefits for businesses. You may use leads to create leads and collect data to enhance your chatbot marketing tactics. You can keep your staff, your human agents, fit and motivated if you don't overwork them. In fact, with BotUp you can easily customize the reports using chatbots. Track the history and assess the performance of your chatbots to make informed decisions Chatbots, on the other hand, can be set up and utilized correctly. Following these steps will help you get the most out of your chatbot. This will help you stand out from the crowd and provide your customers with a memorable experience.
What Makes the Best Chatbot Software?
#1
Build and improve your bot conversation flows to engage and increase leads
#2
One bot for Website, Whatsapp, Facebook, and SMS
#3
Nurture your leads faster with built-in CRM
#4
Create bots from rich & advanced template library based on your requirement
#5
Design bots using visual drag-and-drop builder with no code
#6
Use the REST step to integrate your bot flow with your database and backend
#7
Enhance service through advanced reports and revisiting customer conversation history
#8
Share appointment links, allow users to call and chat using built-in tools
#9
Unbelievable pricing - the lowest you will ever find
#10
Everything your business needs - 50 apps, 24/5 support and 99.95% uptime
Join the SaaS Revolution
All-in-One Suite of 50 apps

Unbelievable pricing - $14.99/user

24/5 Chat, Phone and Email Support