The Ultimate Guide to AI Chatbot
One of the most significant technological advancements that simplified humans' interaction with computers is chatbots. AI chatbots use natural language processing and leverage semantics to understand the context of what a person is saying. Read this guide to learn more about them!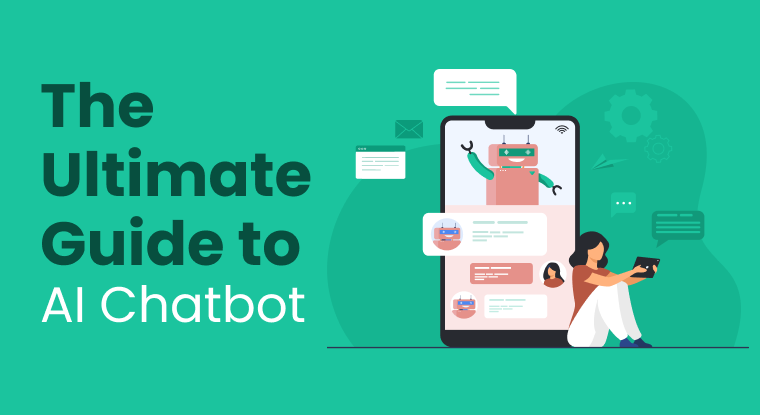 Artificial intelligence chatbots are revolutionizing the customer service experience by giving quick responses to users. This guide provides some information about AI chatbots and more.
Chatbots are used by 1.4 billion people today. Companies launch their best AI chatbots to carry on 1:1 conversations with customers and employees. AI-powered chatbots can also automate various tasks, including sales and marketing, customer service, and administrative and operational tasks.
AI chatbots are fascinating – and they're right on the front lines of artificial intelligence and human intelligence. According to Gartner chatbots are one of the ways AI came to the rescue during the COVID-19 pandemic.
Chatbots, computer vision, and #machinelearning are among 3 ways #AI came to the rescue during the COVID-19 pandemic. As AI starts to deliver on its potential, read more about 2 megatrends on this year's Hype Cycle: https://t.co/aK0CuidHH0 pic.twitter.com/PBbweiypA5

— Gartner (@Gartner_inc) November 25, 2020
AI chatbots can understand language outside of a set of pre-programmed commands and continue learning based on the inputs it receives. They can also make patterns and become more intelligent over time as they experience new situations. This type of chatbot can be applied to various uses – from sentiment analysis to predictions about what a visitor is looking for on your website.
Petter Bae Brandtzaeg, Associate Professor, University of Oslo believes, "Chatbots are important because you won't feel stupid asking important questions. Sometimes talking to someone can be a bit intimidating. Talking to a chatbot makes that a lot easier!"
As the demand for chatbots has skyrocketed, the marketplace of companies that provide chatbot technology has become harder to navigate as competition increases, with many companies promising to do the same thing.
What is an AI Chatbot?
The first-generation bots that many companies adopted were very rigid and provided poor user experiences. Rules-based chatbots are limited to very basic scenarios. On the other hand, AI-powered chatbots offer a more human-like experience, carry on the natural conversation and continuously improve.
In simple terms, an AI Chatbot or artificial intelligence chatbot can spur conversation with the users in the normal/ natural language through various channels such as message applications, Websites, mobile apps, and telephones. It can converse with humans via audio or text. AI Chatbots are the more intelligent versions of chatbots. They can understand machine learning and natural language processing to rectify human intent better.
Why are AI chatbots important?
Chatbots can deliver a functional interaction between your company and the customers, enhancing the customer service experience. Moreover, it will improve customer engagement and operational efficiency by reducing customer service costs.
The Best AI Chatbots for Your Business
1. BotUp by 500apps
Developed by 500 Apps, BotUp can create multi-purpose chatbots in seconds to complete any task. Take your customer interaction to a new level by creating, deploying, and tracking chatbots across social channels.
Pricing: BotUp has a free trial. You can get unlimited access to all apps and features for $14.99 per month.
Features:
With chatbot analytics, assess the performance of your chatbots and make informed decisions by easy customizations.

Build and edit robust flows with drag-and-drop functionality to get things done faster. Use third-party extensions to make it versatile and take the help of the chatbot app's built-in templates to allow your bots to do multiple things simultaneously.

With BotUp, an easy-to-use chatbot app, take complete control over lead nurturing by qualifying leads, scheduling messages, and sending email or SMS notifications. Easily manage contacts and get essential details to export and use for other tasks.
2. ManyChat
ManyChat supports interactive communications that supervise product selection and let buyers do shopping within Facebook Messenger.
Pricing: Free service available and $ 10 for the business aiming for higher growth.
Features:
Respond to buyers instantly on their phones, show them the products that fit them best, and get them to buy—all inside of Facebook Messenger or on your website.

Up to 80% of buyers abandon carts. Get them back on the path to purchase with personalized offers and automated reminders using our free Shopify cart-recovery template.

Helps in product selection and comprehensive sales activities, all within Messenger.
3. MobileMonkey
Omnichat by MobileMonkey is a revolutionary patent-pending chat marketing technology that lets you stay connected with customers instantly in the messaging apps.
Pricing: The free edition is available with PRO ($6.75), PRO Unicorn ($14.25) and Team ($199) deals.
Features:
MobileMonkey OmniChat technology allows marketers to write a single chatbot funnel that works seamlessly across multiple messaging platforms.

Website chatbots qualify leads and route visitors to the product, team, or info they need.

MobileMonkey OmniChat chatbots are constantly optimized for the device in use by your customers and leads. Chat history is kept in one inbox, although if consumers are chatting in Facebook Messenger or SMS!
4. Respond.io
Respond.io is a messaging platform in the business sector that aids in contact connection from all channels to all teams.
Pricing: A free plan is available with a paid plan for $29 billed monthly.
Features:
It allows customers to chat with you by any channel and gives a 360° picture to every team in the firm.

It boosts sales with business messaging.

It also co-operates on conversations and delivers fantastic customer experiences faster
5. Hellotars.com
Hellotars will help you design and integrate chatbots with your WhatsApp channels in a matter of clicks.
Pricing: There are three packages - professional, business, and enterprise, which cost around $99, $ 499, and custom rates.
Features:
Gives you complete control over your bots in an easy-to-use, no-code, drag-and-drop builder that allows you to update your chatbots in a matter of seconds.

WhatsApp Chatbots can engage in meaningful conversations that genuinely delight your customer and deliver value to your business.

The chatbots can automatically send and receive user data from your favourite CRMs so that your customer profiles and conversations are kept up to date in real-time.
AI Chatbots in Ecommerce
Selling online is tough. However, using eCommerce chatbot can help you attract more visitors, engage with them, and keep your customers happy throughout their buying process. The most significant advantage of using AI chatbots for eCommerce is that they are available 24/7 and can precisely provide the information your visitors need when they are looking for it. If you run an eCommerce website, the right AI chatbot can help you:
1. Engage Your Visitors and Turn Them Into Leads
Everyone who visits your eCommerce website is a potential customer. As long as you have good products or services and great content, an AI chatbot can engage your visitors and turn them into leads. Intelligent, AI-powered chatbots can chat with users and store their valuable contact information.
2. Make the Right Conversations
When a customer or potential buyer reaches out to your eCommerce business, your AI-powered virtual assistant can solve their problem or provide them with the correct information. AI chatbots integrated with knowledge bases and CRMs can automatically answer customer questions and offer instant and personalized solutions.
3. Encourage Sales
Ecommerce sales are not only about new customers. You need to encourage repeat purchases and use upselling and cross-selling techniques to increase sales, especially during these ""troubled"" times. AI chatbots can help your potential buyers find the products or services they are looking for. If they are an existing customer, AI chatbots can offer them personalized recommendations and offers based on their preferences and past purchases.
Upselling and cross-selling can help you increase your average order value and customer lifetime value. When you offer good experiences, you can expect your customers to return, make more purchases, and recommend your eCommerce site to friends and family members.
Pros and Cons of AI Chatbots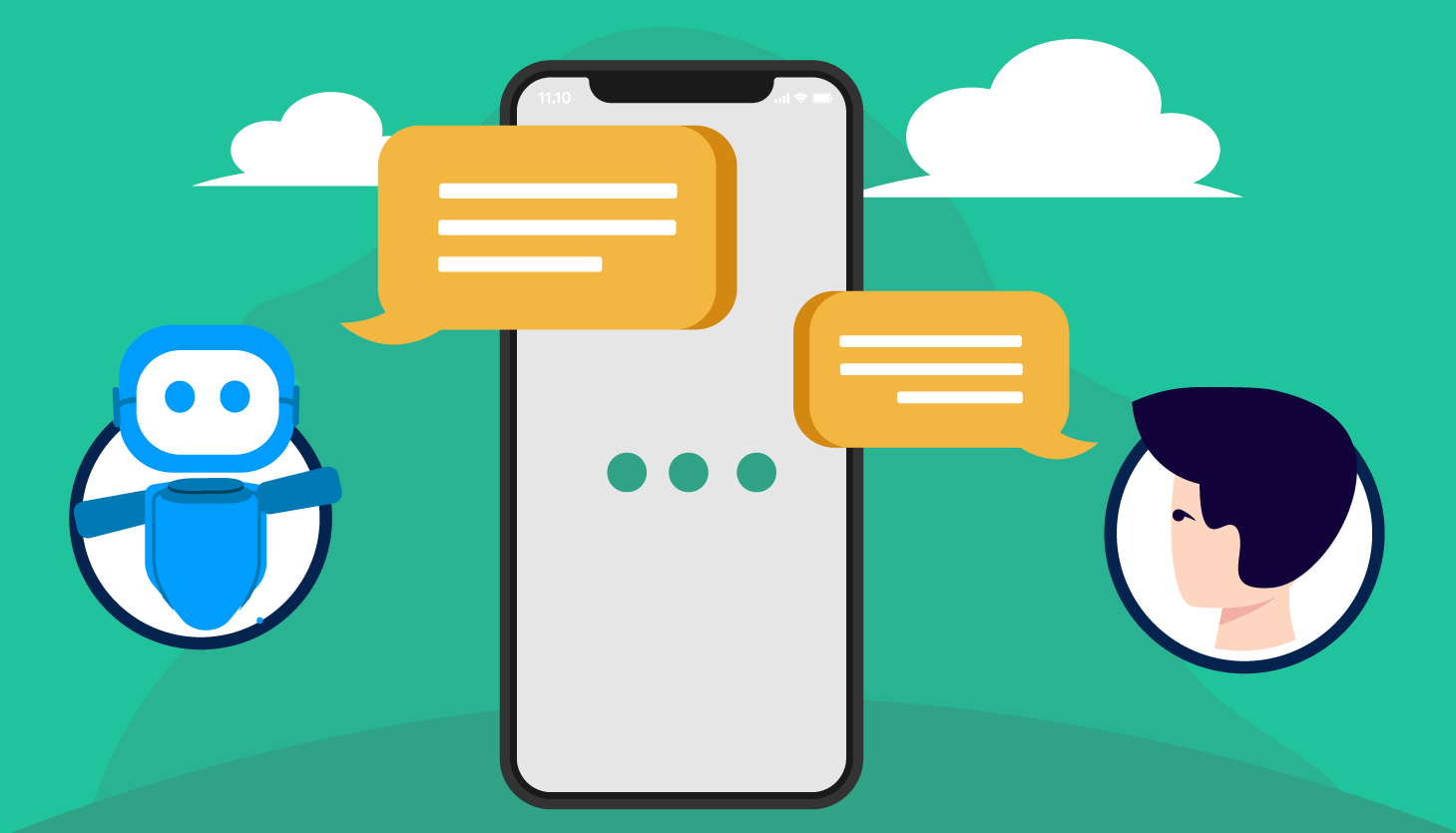 Advantages of AI Chatbots
There is no doubt that the demand for chatbot certification increases day by day. Some of the pros of AI chatbots are listed as below:
1. Increase sales Chatbots can be utilized to provide instant support to your clients. This will further improve and enhance the sales generation of the business. You can also use artificial intelligence bots for marketing your products.
2. Availability AI chatbots are available 24/7. It is pretty hard to offer 24/7 customer support with human client service. AI chatbots can respond to every question that is prompted. This ensures that your client will get their queries solved whether it's day or night.
3. Fast service AI chatbots can quickly solve several issues compared to human agents. Bots quickly search queries of customers online. They already have a large amount of repository. AI chatbots keep updated versions of repositories after each client interaction session.
4. Cost savings You must pay your client support team every month if you don't use AI chatbots. AI chatbots also need some investment in the initial phase, but AI chatbots are much better in the long run. AI bots can automate your service processes and thus save money.
Disadvantages of AI Chatbots
Despite its advantages, Bot technology has also disadvantages. Sometimes chatbots fail to analyze voices in noisy areas.
1. Lack of feelings and emotions A bot has no feelings or emotions. AI chatbots can manage several customers' requests, but they cannot when the conversations take an unpredicted turn. Sometimes it becomes critical for chatbots to interact effectively since chatbots have no emotions.
2. Require maintenance AI chatbots require continuous ongoing optimization, analysis, and maintenance. You are needed to feed with upgraded insightful information that they can utilize to respond to clients' questions and requests.
3. Difficult to create Developing an AI chatbot from scratch is an arduous task. It requires significant effort and time. Although, using a chatbot tool like BotUp can make the process much easier.
Wrapping It All Up!
More and more people want to communicate with businesses via messengers, and online retail is one of those industries that can receive a significant profit from this trend. Therefore, a chatbot is a must to keep the most effective communication with users, increase sales and engagement, and build loyalty.
Various use cases and successful e-commerce chatbot examples show that chatbots for the retail industry are a win-win for both sellers and buyers. AI Chatbots explore an environment of opportunities for enterprises. Chatbots are transforming the method we interact with the world. Chatbots have several pros and cons. Chatbots can save much money, time and resources. While they need constant maintenance and don't have feelings, you can allocate a character.
Chatbots have many advantages and disadvantages. However, with the introduction of new technologies and software solutions, the benefits outweigh the disadvantages. Chatbots can help your business save a lot of time, money, and resources with the correct answers. They can also help you take customer experience to the next level. While they don't have emotions and require continuous maintenance, you can assign a personality to them and add more content to their databases. This will help you ensure that they have all the essential solutions to cater to your customers' requests.
What Makes the Best Chatbot Software?
#1
Build and improve your bot conversation flows to engage and increase leads
#2
One bot for Website, Whatsapp, Facebook, and SMS
#3
Nurture your leads faster with built-in CRM
#4
Create bots from rich & advanced template library based on your requirement
#5
Design bots using visual drag-and-drop builder with no code
#6
Use the REST step to integrate your bot flow with your database and backend
#7
Enhance service through advanced reports and revisiting customer conversation history
#8
Share appointment links, allow users to call and chat using built-in tools
#9
Unbelievable pricing - the lowest you will ever find
#10
Everything your business needs - 50 apps, 24/5 support and 99.95% uptime
Join the SaaS Revolution
All-in-One Suite of 50 apps

Unbelievable pricing - $14.99/user

24/5 Chat, Phone and Email Support