Stay Connected with Your Customers Using WhatsApp Chatbots
Patience is a virtue in every customer. You can use a WhatsApp chatbot to provide 24/7 support and encourage personalized interactions between your business and customers. Read the how-to here.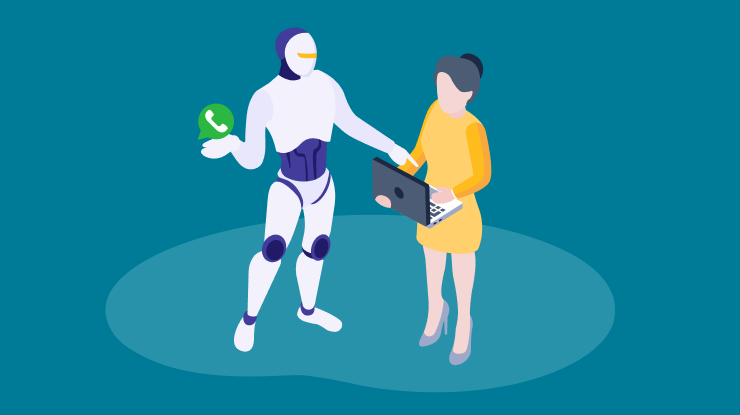 How Can WhatsApp Chatbot Help Businesses Stay Connected with Customers? Companies interact with customers using social media, including WhatsApp and Twitter. WhatsApp has over 2 billion active users in 180 countries. Not only this, but at least 70% of WhatsApp users check their phones daily. Because of this, WhatsApp is the preferred channel for answering queries and resolving claims. Do you know you can connect with customers and avoid unnecessary conversations using SMS chatbots?
WhatsApp chatbot is an automated software controlled by artificial intelligence that runs on the WhatsApp platform. It uses a chat interface to communicate with people using a set of automated replies that simulates human conversations. Generally, a customer service chatbot uses machine learning and AI to answer basic customer questions. The bot uses existing resources to answer queries, and you can even train them to give instant responses using a preferred tone and voice.
Chatbot support offers tremendous benefits to a company. However, it does not replace customer service agents. We feel strongly that most people shy away from using chatbots for this reason. It is true that chatbots support customer service agents and help them do a better job. In particular, it resolves simple questions and leaves enough time for the team to handle complex queries. But they are not a replacement. Why? Because chatbots and humans excel at different tasks. Let us examine some benefits of using WhatsApp chatbots for customer communication.
Benefits of Using WhatsApp Chatbots for Customer Communication
Instant Query Resolutions
Customers want an instant response from companies, which applies to every industry. Instant replies make clients feel valuable and essential and further strengthen their loyalty. There is also a high chance that they will end their intent to communicate if you don't send a quick reply. This is where WhatsApp chatbots prove valuable.
WhatsApp chatbots allow you to automate your source materials and FAQs to resolve questions. Since most queries are often related to answers you have provided in the past, you can design a custom flow for various stages of the conversation. This function allows you to automate your marketing flow without any human intervention.
24/7 Customer Support
It is highly improbable that your team will be available 24/7 to attend to customers. The chances are even more unlikely if you have a small business or are the sole employee. A chatbot is automated to work every time, with no downtime unless WhatsApp itself is not working. You can build a dedicated out-of-office chatbot in case of complicated questions that will require human intervention. This way, team members can reply when they are available.
Encourage Personalized Interactions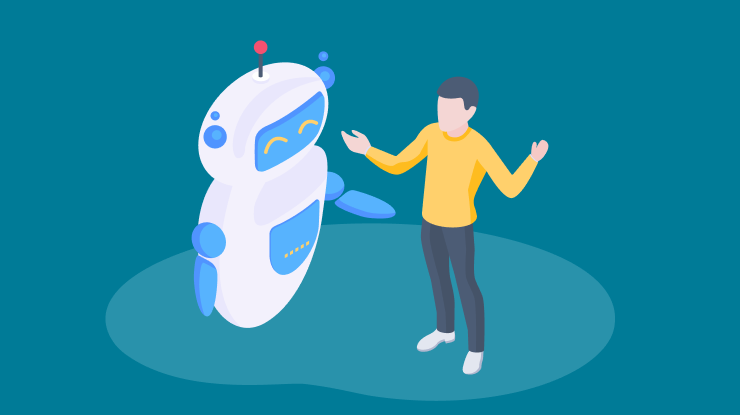 Customers desire quality experience and not just good products and services. Therefore, you need to adopt a personalized approach to customer service. WhatsApp chatbots allow you to analyze various customer data based on factors like the type of device used, location, previous chat session time, etc. Analytical data like this will facilitate context-driven conversations and improve customer satisfaction.
User-focused Answers
Customers with the same questions don't want the same answer. Location, business type, etc., can affect the reply each person wants. Therefore, you can use a chatbot to provide targeted answers tailored to different customer needs.
Chatbots thrive on artificial intelligence. As a result, it continues to learn to allow you to improve the quality of your support. A chatbot does not forget an answer. Instead, it adds it to its knowledge bank and uses it to answer future questions. For example, if the customer response rate to a question is flagged as unhelpful, the chatbot will not give the same reply in a different conversation. You can train your chatbot to answer questions and leverage AI to provide user-focused answers.
Chatbots are Fun to Chat with
Customers prefer to ask chatbot questions instead of browsing silently. Sometimes, the reason could be entirely non-relating to your product and services. For example, it could be an attempt to feel out your chatbot and test its intelligence. However, it is also an opportunity to engage customers – to ask questions they would otherwise keep quiet about. If they contact you after that, your agents can use their conversation history to understand their needs.
How to Set up a WhatsApp Chatbot for Your Business
There are two popular ways of setting up a WhatsApp chatbot for business. You can use software or do it yourself – the earlier is the most convenient.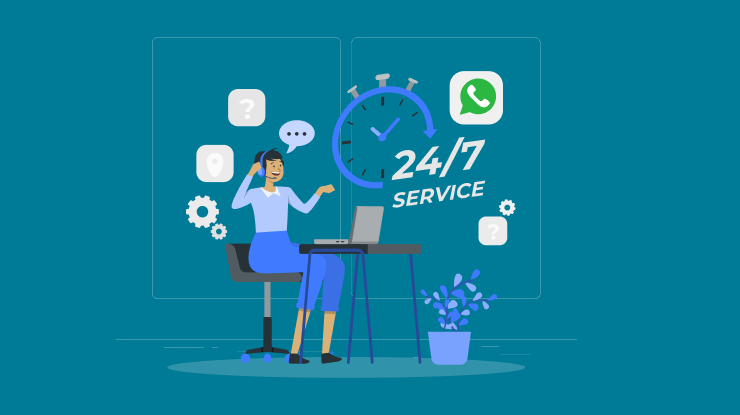 Chatbot Software
Chatbot software allows you to create and use chatbots to interact with the user. Since it is software, it reduces the workload for everyone involved. Botup.com is a good example. The WhatsApp chatbot software automates conversation, sends alerts, notifications, and popups, and can handle multiple WhatsApp groups and channels simultaneously. There is also a live chat option, and you can use it to process payments.
A WhatsApp chatbot software is a suite of tools to help your business interact with customers without any human intervention. This approach is a great way to engage customers and generate leads at a low cost. The software also provides tools you can use to manage, deploy, and track your chatbots.
The general process looks like this:
Create an account with a chatbot provider
Set up a WhatsApp chatbot canvas
Set up a WhatsApp testing channel
Create a block to demonstrate a variety of features
Ask questions
Set up conditional logic
Ask more questions
Setup media
Integrate it with a google spreadsheet
Setup notifications
Manual Chatbot Setup
Anyone with the required WhatsApp business API can use a chatbot. All you need to do is activate your WhatsApp numbers and set up your message template. However, the general bot is a bit restrictive in its application. You can create a manual bot by coding if you can. All of the steps in creating a chatbot can be challenging, especially for someone who has never done it before. Therefore, the best bet is to use an all-in-one WhatsApp chatbot software.
Tips for Using WhatsApp Chatbots to Stay Connected with Your Customers
Tailor the bot content specific to your company: make sure the bot content suits your customers' needs. To do this, upload source materials and FAQs you know your customer needs. Also, outline the purpose to show whether the bot is to increase sales or strictly handle customer support cases.

Engage your customers: keep everything with your chatbot simple. You can use messages as alerts or notifications to communicate with customers. You can also use a message template approved by WhatsApp before use.

Use conversations that guide customers: you can customize your chatbot to follow a chatbot flow or a more human dialogue approach. The difference is that a chatbot flow is more automated and does not entirely simulate human conversations. Therefore, the first thing is understanding what your customers need and implementing the required solutions.

Give lively answers: don't restrict your chatbot to just texts. The aim is to keep the conversation natural and chat just like you would with a friend. Therefore, use emojis, images, links to videos, and carousels to engage customers or display products and services.

Chat naturally: as we stated above, don't overcomplicate things for yourself. Thanks to AI, chatbots recognize typographic errors and will correct them. They also understand colloquial words and can apply them to different languages. Therefore, chat naturally and don't make a big deal out of the possibility of spelling mistakes.

Be flexible with your Chabot: chatbots cannot run out of topics. You can continue through live chat. However, if the content and chat flow are unsatisfactory, transfer the session to support personnel. Additionally, adopt a chatbot that can leverage AI to show suggested answers to repetitive questions. This feature will help your support team to provide faster customer service and improve the experience.
Conclusion:
The Future of WhatsApp Chatbots and How They Can Help Businesses Improve Customer Communication.
AI-Powered chatbots understand human intents. They can serve just like a human agent. They can interact with customers and be simple to implement. This latest innovation is a unique way to fulfill customer expectations and make them happy.
Customer service chatbots will create a consistent and impressive experience for your customers. You can use WhatsApp chatbots to answer customer questions, share notifications, send purchase confirmations, push reminders, reschedule bookings, etc. You can control the tone, voice, and language used in the response, and AI control ensures that your bot does not miss any conversation by accident.
Not only this but there is no chance of mistyping or pasting wrong information to customers. If you want to scale your customer support and handle many requests on WhatsApp, use a WhatsApp chatbot.
What Makes the Best Chatbot Software?
#1
Build and improve your bot conversation flows to engage and increase leads
#2
One bot for Website, Whatsapp, Facebook, and SMS
#3
Nurture your leads faster with built-in CRM
#4
Create bots from rich & advanced template library based on your requirement
#5
Design bots using visual drag-and-drop builder with no code
#6
Use the REST step to integrate your bot flow with your database and backend
#7
Enhance service through advanced reports and revisiting customer conversation history
#8
Share appointment links, allow users to call and chat using built-in tools
#9
Unbelievable pricing - the lowest you will ever find
#10
Everything your business needs - 50 apps, 24/5 support and 99.95% uptime
Join the SaaS Revolution
All-in-One Suite of 50 apps

Unbelievable pricing - $14.99/user

24/5 Chat, Phone and Email Support