Top 11 Tips to Design Your Chatbot Using Chatbot Platform
This article will provide few tips on how to design your chatbot using a chatbot platform that can give a user a sense of what the company's product is like. It contains advice on how to customize your chatbot to your liking. Chatbots have been around for quite some time, and chatbot technology is rapidly growing. Text, speech, animation, and gestures are all used by chatbots to communicate with humans.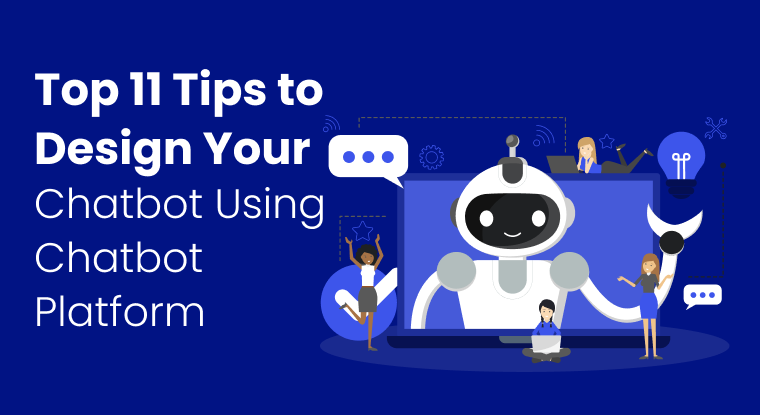 Implementing a chatbot to make initial contact with your customers and to help you with your sales or customer service is a very effective way to save both time and money while increasing customer satisfaction. One way businesses are able to do so is by utilizing chatbots within their social media messaging platforms. However, in order to make them work the way you need them to, it's best to follow some simple and effective tips for designing a chatbot that actually works.
11 Tips to Design Your Chatbot
1. Use a chatbot platform
Start the design process by using a chatbot platform such as BotUp. Using a chatbot platform will take you through the steps to design your chat, which will greatly increase your chances of creating one that actually works.
2. Define your chatbot goals and expectations
Next, you'll want to define what it is that you want your chatbot to do. Determine if you simply want your chatbot to be the first line of communication or if you want it to answer questions or sell products. You'll need to get to know your chatbot platform so you know what it is capable of doing and what you'll need to do on your own.
For instance, the platform will be able to design a chatbot that will have full conversations with your customers, but you need to input personality questions, tasks, break responses, conversation flow, etc. The design platforms are extremely helpful designers, but you will need to input the information that it needs to do its job well.
3. Define which data you want to gather from users
You'll also want to determine what kind of data you would like to collect when users engage with your chatbot so that you can generate effective leads or provide effective customer service. Information you may want to gather includes names, customer IDs, email addresses, order numbers, etc.
4. Create a natural bot conversation flow
Once you start designing your flow for your chatbot, you'll want to define a human-like, natural flow to the conversation. Bot conversation flow may look something like:
A. Welcome message.
B. Do they need products, services, or support?
C. Are they an existing customer or new customer?
D. Customer information, including customer ID, phone number, etc.
Once the flow is determined, you'll be able to start deciding on your chatbot's brand.
5. Define personality and tone
When defining your chatbot's personality and tone, remember that you'll get more engagement with more human-like chatbots. Decide how formal or informal you would like to be. Perhaps you would like to add some semblance of a sense of humor. These can all be set by you while you design your chatbot.
6. Start small and simple
You'll want to make sure you don't overcomplicate things unnecessarily as you design your chatbot. Create engaging and intuitive flows and a chatbot that sounds more human than a bot, but don't overthink it. You can always add more later. Start small and simple.
7. Keep it real
Along with making sure you start out small and simple, you'll want to make sure you keep it real. Avoid jargon or technical words. Instead, use conventional keywords for interfaces such as "Settings," "Notifications," and "Help." Keeping it real will also ensure you are keeping it engaging and the interaction with the chatbot intuitive.
8. Message like a human
Of course, part of having a human-like personality and voice is to message like a human would. This might mean a less formal language than you might at first consider. It could include the use of slang terms or colloquial language. This isn't always easy at first, but you get the hang of it.
9. Add emotions to your conversation
Adding emojis or other visuals to your messages can also humanize your chatbot and make your conversation more engaging and maybe even memorable for your customers. Adding emojis is a great way to add some emotional intelligence to your chatbot.
10. Evaluate and optimize your bot regularly
Make sure your chatbot is working as intended by generating reports so you know statistics on how many contacts your chatbot has received and the performance on each of your messaging platforms.
11. Make it easy to switch from bot to human support
No matter what your ultimate goal is for your chatbot, you'll want to make it as easy as possible to allow your customers to reach a person. Adding this possibility into each of your flows will ensure your customers will be pleased with their customer service interaction.
Conclusion
Using these 11 steps will help you design a chatbot that actually works, which will make your job easier and your customers happier. Whether you are creating a chatbot for your website, or a Twitter, Whatsapp, or Facebook bot, you'll find creating the strategy behind the need for a chatbot, designing useful flows, and making it more human-like will ultimately get you the results you desire.
What Makes the Best Chatbot Software?
#1
Build and improve your bot conversation flows to engage and increase leads
#2
One bot for Website, Whatsapp, Facebook, and SMS
#3
Nurture your leads faster with built-in CRM
#4
Create bots from rich & advanced template library based on your requirement
#5
Design bots using visual drag-and-drop builder with no code
#6
Use the REST step to integrate your bot flow with your database and backend
#7
Enhance service through advanced reports and revisiting customer conversation history
#8
Share appointment links, allow users to call and chat using built-in tools
#9
Unbelievable pricing - the lowest you will ever find
#10
Everything your business needs - 50 apps, 24/5 support and 99.95% uptime
Join the SaaS Revolution
All-in-One Suite of 50 apps

Unbelievable pricing - $14.99/user

24/5 Chat, Phone and Email Support