Social upfront is a thumbs-up spirit and a hat-taker for most organizations to take one's business to the next level. The social strategy became a personalized approach for the businesses to understand customer needs and entertain the people with their exciting stories about solutions and brand-building tactics. Hence, every business has shifted its focus in adding a virtual handshake through social media channels. And, to make it very crisp.
Technological dependencies to understand customer needs became widely important for businesses thus paving the way to the implementation of seamless conversational AI bots.
It's very clear that the use of conversational bots enhances: - Customer experience - Automates replies to the conversations - Handles queries with multiple audiences in a fraction of time - Engages the audience every time they look for your service - Captures contact information of the users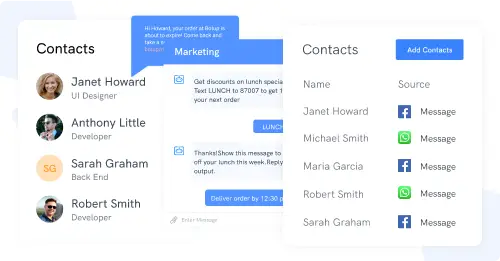 But, there comes a question when it comes to the contribution of conversational AI bots like Botup while designing a social media strategy for your business. As social media channels are known for building business partnerships, sharing posts, images, & memes, publishing ebooks, and much more, the scope of how it can help in your strategical planning must also be in consideration. So, here's how Botup can integrate into each of the social media platforms to make your marketing move a great success:
How Conversational AI Botup Works with Various Social Media Profiles?
Facebook Messenger
Every business that's on Facebook, expects more visitors to sign-up for their home solutions. Still, the expectations on boosting the messaging experience have received a great response from the individuals. And, more marketers have quoted messaging as a great channel. The rich messages from the conversational AI bots from global as well as small businesses have awakened most of the individuals to experience the twilight of their solutions. As more than 2 billion users are on Facebook, these bots are hacking the audiences at the micro-targeted levels thereby attracting the most. Innovators and brand-establishing firms are showing mighty enthusiasm to engage themselves into bot intelligence to enhance audience engagement and divert in more followers with their fab actions.
WhatsApp
No learning curve is needed for WhatsApp messenger to the people. Moreover, the number of users is similar to the number of Facebook users and over 80% of businesses step into WhatsApp with the help of conversational AI bots. Another kick point is the fast messaging platform helped many businesses to convince in boosting customer experience and aligning with the business goals.
"If you do your follow-ups on WhatsApp instead of direct phone calls, you will get 40% more responses. No one appreciates phone calls from unknown numbers but we are more likely to respond to personal messages. When we start using WhatsApp for customer communication, we noticed better response and engagement," quotes ProfitBooks. So far, the businesses that deployed conversational bot into WhatsApp, have benefited a lot as it added a bit more personal touch with the business solution seekers.
Twitter
You may have noted that most of the organizations fall into spam on Twitter. This happens because of too much self-promotion. Twitter is the best platform to market your business in the form of GIFs, images, and memes. Today, most businesses excel at these aspects as they want to engage the audience with more than what they offer.
Posting valuable content other than what you offer, having honest conversations with the connected people, go for retweets if the content is valuable, and choose hashtags to reach the wider audience are the best practices to create engagements and boost conversion rates as well. Finally, you would be benefitting maximum with these strategic approaches.
So, an AI-powered bot like Botup by 500apps creates an interest among the target audience to implement a smart sales strategy. Botup is the ultimate engagement platform and bots in Twitter resolve customer queries or entertains them by satisfying their needs at any time.
Instagram
Instagram is a platform to build great business partnerships. To share reels, images, videos, carousels, and GIFs, Instagram is the chosen platform for businesses. And, chatbots in this platform trigger greater customer support, and thousands of questions are answered by business professionals through Instagram itself.
The wide implementation of conversational AI chatbots quickens in answering these questions thereby saving a lot of time and effort. Engage your audience more with the welcome messages by gathering data of your clients, neglecting or missing any of the client messages, sending push notifications, notify about the product updates, and bring-in closer attention through a personalized approach. It's also possible for Botup to sync between Facebook messenger and Instagram for boosted engagements and conversions.
LinkedIn
As per the reports, it's observed that LinkedIn has the highest lead conversion rate when compared to other social media platforms. Because it's a high professionalism radiating platform and most business innovations and eye-catching solutions are explored here. Till now, LinkedIn didn't have bot integration but sooner or later, the platform demands the software to automate campaign monitoring and lead capturing. The bots in LinkedIn could be another added advantage and highly boosting scenario for the businesses to remain relentless in nurturing the leads and gaining deeper insights about the target audiences.
The silver lining of leveraging business scenarios is in the conversational AI platform. Businesses tend to focus on one single software, Botup to build their brand by developing a strategy based on these bots. The superpowers of AI in bot intelligence are yet to unveil but as per the available features and "wow" echoing nature, it's simply extraordinary to offer extremely benefitting business solutions to a group of people. Begin your journey using Botup to pitch yourself into the brand elegance and bond elevation.