Back in the day, businesses used TV commercials and newspapers for lead generation. However, this has evolved over the years, and chatbots are the new thing. Chatbot for lead generation is helping businesses to understand their customers better and meet their needs. The increased use of chatbots proves that companies now understand how impactful these digital tools are. If you are interested in knowing more about using chatbots to help you boost your sales, this page will help you understand how. Keep reading.
Lead generation bot is a chatbot programmed to initiate client conversations. Conversations initiated here are meant to build a good image of your products/services. The basic idea behind the working of chatbots is that they use conversational marketing to collect information from customers and respond accordingly based on customers' requests.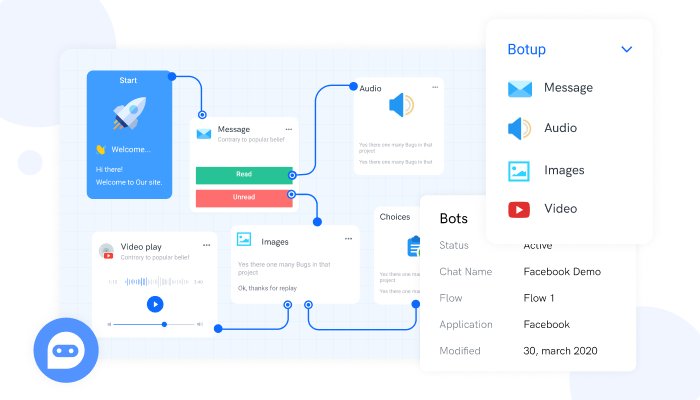 With the help of lead generation chatbots, customers can interact with the business 24/7. These bots are designed to guide customers in getting what they want. They provide quick answers to customer queries, which keeps the conversation going to ensure they don't leave your website unconverted. Therefore, lead generation chatbots enable businesses to effectively engage with their audiences throughout the purchasing process. In turn, this leads to an overall improvement in customer relationships.
It can be daunting to keep up with the rising customer demands when you are operating outside business hours. Chatbots are of great use here as they guarantee you never miss any leads. In addition, Chatbot for website can take over the process when your live chat operators or sales team are not available and provide much-needed 24/7 support.
Here Is How You Can Use Chatbots To Generate Leads:
Using chatbots for lead generation can help your business in many ways. Besides improving sales, it can also be used to market, provide 24/7 customer support, and improve customer experience. When everything is running smoothly, this means that there will be a huge boost in operational efficiency. At the end of the day, you will save a lot of money you would have alternatively used to hire more support workers. Since customers will get their questions answered and guided as required, this will also lead to increased customer satisfaction. If chatbots are used correctly, expect to flood your business with many leads.
Benefits of Lead Generation Chatbots
Automate Sales Conversions
Bots will help automate your sales funnel. It can ask customers specific questions depending on what they are looking for and channel them to the right team for further information. This saves your team from the hustle of listening to every customer manually. More time is spent serving the customer and meeting their requirements.
Higher Return on Investment (RoI)
Chatbots will keep your business on high alert for leads at all times. This means that your business will take advantage of every opportunity that comes your way. Customers will be pleased with your full-time support, and retaining them will be easy. In addition, there is a good chance that your business will thrive now that you will understand your customers better.
24/7 Support
Your digital presence all round the clock means a lot to your customers. The ability to communicate 24/7 with your customers is vital to keep your customers coming. Without this, clients might opt for alternative products/services simply because you are unavailable.
With such benefits coming your way, it's crucial to understand how best you can use chatbots for lead generation.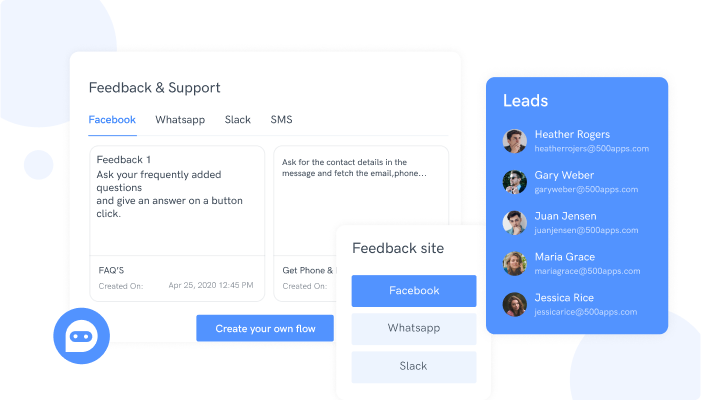 Understanding Your Audience
Relationships are meant to be nurtured. Before you gift your neighbor anything, you always strive to understand them better. The same case applies to how businesses nurture their relationships with customers. Before they can sell their products/services, they first need to know whom they are dealing with. They need to evaluate their customers based on their shopping habits, interests, and other factors.
Chatbots can provide your business with valuable insights about your customers. For example, you can determine the products your customers are after as well as their likes and dislikes. With this information at hand, it's easy to attend to your clients' needs.
For instance, if a customer visits your page, a chatbot can ask them about their interest. If the customer responds by typing "smartphone," the bot can provide them with a list of smartphones you have in your store. It's that easy.
To get a clearer picture of your audience, chatbots can run surveys and ask questions that will help you gather the information you need. After that, you can use customer insights to send personalized messages to your customers.
Segmenting Your Audience
Your customers expect relevant content from your business. Of course, your clients will be disappointed if you send them promotional messages for products not available in their country. Chatbots ensure that this doesn't happen by segmenting your audience based on factors such as interests, demographics, gender, and age. The goal of segmenting your audience is to ensure your business sends out relevant content to customers. This guarantees your business quality leads that can easily be converted into loyal customers.
Building Relationships & Trust
Chatbots are there to simulate human conversation through artificial intelligence. Conventionally, if you were interacting with a customer, you would want to gain their trust. However, chatbots are programmed to improve customer experience. When customers feel that they are getting answers to what they are looking for, they build trust in the business.
While you might think that chatbots are mere robots, it's important to note that these bots are designed to provide your business with a personalized human touch. Their welcoming messages will motivate customers to keep typing. Moreover, their prompt responses and quick solutions are a delight to many. As a result, customers get the feeling that they can depend on your products/services at any time. This is the confidence that ultimately leads to increased trust in your business.
Besides, WhatsApp chatbot provide clients with information regarding products/services your business offers. They get to know more about existing offers, announcements, and any other updates they might be interested in. Therefore, your customers can explore your business further before making their final purchases.
Like any other employee in your company, bots represent your brand. The way your chatbots communicate impacts how customers perceive your brand. By responding to customer queries, chatbots help to create value for your business. Customers will find your products/services valuable because the bots helped answer their questions.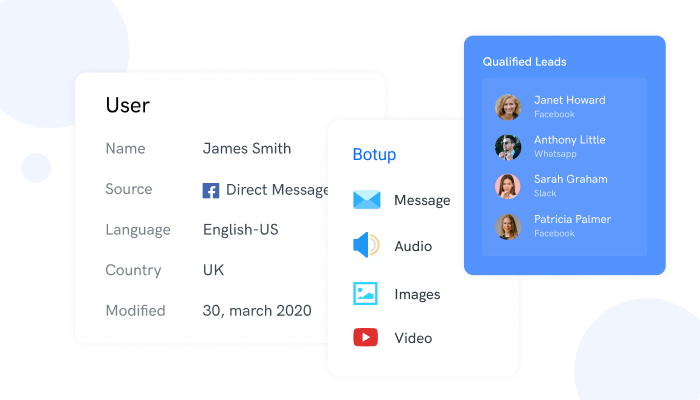 Educating Your Customers
Customers will only buy or choose your product if they know what you offer and how the product/service will benefit them. If your products are deemed irrelevant, then your clients will quickly close their tabs and opt for alternative products. Chatbot for messenger is helpful because they provide customers with product knowledge. Armed with the right information, customers are better placed to make informed choices. In the end, this can contribute to increased conversions.
The best way of using bots to educate customers is by programming them to send educational and promotional messages like offers, discounts, and webinars. Integrating chatbots with CRM tools can also ensure you get all the right information that helps you serve your customers better.
Conclusion
Communication is one thing that can make or break your business. With the advent of technology, it has become more than necessary to leverage the power of AI to enhance communication. Customers are after prompt replies, smooth engagement, and support all round the clock. Automating the communication process is a great way to redefine how your business interacts with customers. Chatbots for lead generation will enhance engagement and also boost conversions. You can never go wrong by using bots to automate the conversations with your esteemed prospects.