What are the Types of Chatbots?
Chatbots can be used for various purposes. Understand the types of chatbots and which one you should opt for for better customer engagement.
Though chatbot types can be simplified into two basic categories (task-based and data-driven), these categories don't explain all of the different types of chatbots that are out there. Though the terms for them may change, there are various types that can be recognized for their everyday value to users.
Here is a more detailed look at all of the various chatbots:
Simple Chatbots
Part of the task-based category, simple chatbots are just that...simple. They run based on scripts that consist of questions asked by the bot and answered by the user. It does not pull from previous experience or interactions. They are easier to build with flows that are logical and straightforward.
For the most part, simple chatbots are meant to have only one expertise from beginning to end, such as food ordering, product FAQ knowledge, company information, etc. Menu options and navigation tend to be very easy for simple chatbots. They can be created and implemented easily and, therefore, more widely.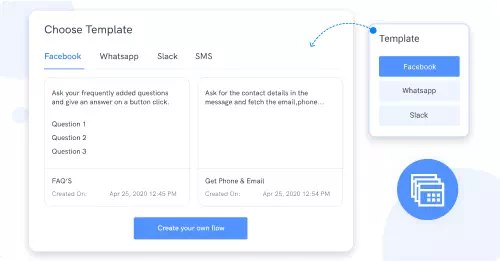 Simple chatbots will give button options based on a pre-defined knowledge base. When the options you need are available, these are very effective bots. If your purpose for a chatbot isn't as simple as a list of options to choose from, it may not be the right bot for you.
Example simple chatbot: A menu app with a chatbot that lists the options for you.
Action Chatbots
Another task-based chatbot that is a step-up in complexity from the simple bot is the action chatbot. These bots will be able to ask for more broad information than just a list of options by collecting relevant information from users and taking specific actions based on the information.
Create chatbot that will respond based on the action or inaction of the user and be able to trigger different actions based on those choices. This is more effective than the simple chatbot but doesn't require extra programming that goes with the more data-driven bots.
Example action chatbot: An FAQ chatbot for an organization that responds based on keywords with options to choose from.
Social Media Messaging Bots
Facebook chatbot can be as simple or complex as an organization needs. Rapidly growing in popularity, social media messaging bots can be integrated with many different platforms so customers and prospects can get in touch with organizations right from social media. As you gain more followers and encourage these followers to reach out on your social media channels, the more advantageous a messaging bot can be. It will respond immediately and provide support or answers to the user on your behalf or send them to you, if necessary.
Your social media followers and others will be able to contact your business for customer service or sales needs any time of day from any time zone. Plus, in a world that is so much more used to getting instant results, a chatbot can respond immediately and appropriately so you don't have to. This has a huge impact on increasing both conversions and customer satisfaction rates.
Example social media chatbot: A Facebook Messenger chatbot that can respond to users' inquiries.
AI Chatbots
In the data-driven category, artificial intelligence (AI) chatbots are a whole new level of bot. These bots are considered skills chatbots because they can accomplish actions by voice commands such as turning on and off smart devices in homes. AI chatbots use natural language processing (NLP) to interpret commands and execute them.
Machine learning capabilities help AI chatbots understand human speech and can put it in a context that the user gives, whether they know it or not. Plus, as humans, we've gotten very good at adapting our language when necessary as well. When our chatbots don't understand what device we meant it to turn on when we told it to, we will change our command to add which device. They don't have to be all-knowing to be 100% effective.
Example AI Chatbot: Google assistant, Siri, and Microsoft Cortana.
Contextual Chatbots
The most advanced data-driven chatbots are even more contextual-based than the AI bots. These chatbots will not only use AI to converse naturally with users but will also learn from interactions and past experiences. Contextual chatbots include our favorite virtual assistants such as Amazon Alexa.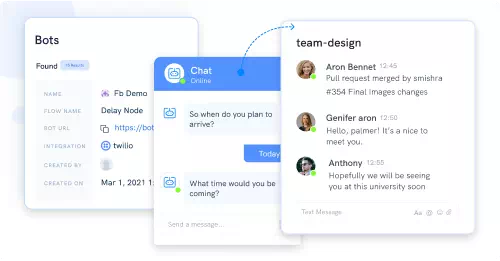 Contextual chatbots can decipher what the user wants with more awareness of the context of the communications the users provide. These bots use AI, machine learning, and NLP to provide the most advanced experience for users. And the possibilities are endless with such smart and advanced chatbots.
Example contextual chatbot: Smart speakers such as Amazon Alexa and Google Home.
Not every occasion calls for a chatbot that can hold full conversations without missing a beat, like smart speakers. There are a variety of types of chatbots for this reason. Most fit neatly into the categories above, but some are combinations of different types. Think carefully before choosing which type is right for you. If you're in the market for an automated solution that gives simple options for users to choose from, no need to include all of the bells and whistles you get with the more complex chatbots.
Designing the chatbot for website of your dreams also doesn't have to be very complicated either. Using tools such as Botup will do it for you...no expertise is needed. First, you'll just want to figure out what type of chatbot you really want. Part of determining the type that will work for you is to decide what you want it to do for you. Botup can do the rest with simple input from you!
Read on to learn more about what chatbot software is and how chatbots work, which may help you with your decision on which type will work best for you and your organization.