How to Create a Chatbot?
Help customers find what they want quickly and easily - whether it is buying groceries or finding a table at a restaurant. Provide an instant response based on the user's request with chatbot.
The transformational era has begun for every business. It's the time to innovate, optimize, and hold the edge of digital transformation to add a competitive advantage for your business. You might have faced situations where you need to add support to handle every customer and answer their queries. But now, can you see such long traditional queues for answering the queries? Almost 80% of the businesses have adopted the embracing power of Artificial Intelligence.
For any business, this Artificial Intelligence turned to be virtual, with the implementation of a conversational bot or a chatbot. The bots have taken over the digital arena to handle, engage, and support customers in every way possible.
AI chatbot is a conversational, automated customer-centric solution that automates responses and simplifies customer engagement. Look at your competitor or any other online business, the chatbot is their chosen way - from welcoming customers to generating responses, from query resolving to direct them to become your client. The capacity to build chatbots has been the toughest at the start but as years passed by, simple integrational capabilities have been added. A triggering node is all needed to activate the chatbot after integrating it.
With no or less coding experience, chatbot functions at its best, never leaving a remark on it. The key area of any business lies in customer engagement and lead generation. Here chatbots never let your customers drop away as it continuously keeps in touch by recording their contact details. Own a chatbot for your business by identifying opportunities, setting up organizational goals, designing or using drag-and-drop editors. Let's go granular in each of these to develop the right chatbot for bright growth.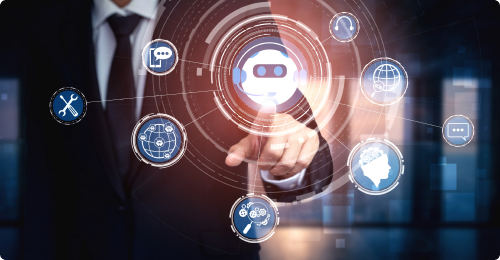 Identify Opportunities
The focusing aspect while developing a chatbot is knowing where to implement this virtual human. The opportunity embracing relies on data complexity and work environments. However, the data complexity can be solved by integrating databases into bot intelligence so that the huge amount of data is secured and safe. Whereas, overloaded customer support executives increase work complexity. Customer service chatbot paved the way to reduce the investments in customer support and boost sales massively. So, the possible implementation of a bot can increase efficiency, boosts effectiveness, and embraces innovation in the support wing.
Organizational Goals
The changing client expectations, increase in engagement, and query resolving are the challenges that most organizations have to deal with. And meeting these goals, contributing a major part to an organization's success, became effortless with the rise of chatbots. Hence, to realize client-focused goals, chatbots capture the interest with their decision-making based on the client's interests. Such a complex decision-making process made simple and you've got every client's back to serve what they need. If you're aware of your organizational goals and client behavior, the success rate of your business scales to higher levels.
Designing Chatbots
Soon after knowing the purpose and goals, the next step would be the choice of platform. The AI-powered programming for drag-and-drop editors, voice-to-text, implementation of flows, being decisive and logical based on the options selected, must be integrated to build chatbots from scratch. This requires a high level of programming interface and integration of voice assistant to automate the process.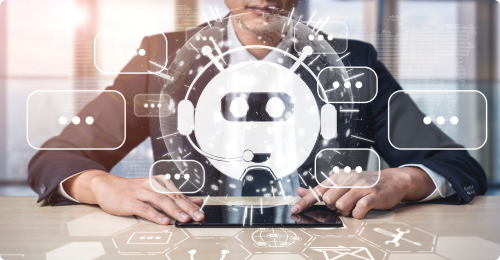 Here are the steps in a glance to design a chatbot:
Identify the chatbot software you want to build
Choose the technology
Design the conversation using multiple tools
Run test cases in real-time
Integrate & Automate
Chatbot designing is as complex as it looks and as quick as it can be when implemented. A 6-step process is a time taking process though. Hence, to simplify the designing process, drag-and-drop editors or directly available chatbot solutions.
Drag-and-Drop Editors (Be a non-coder)
Multiple features, many integration capabilities, predefined flows, voice assistants, and much more are available in drag-and-drop editors to make a chatbot compatible and effective. Use visual flow builder to build a simple chatbot with no coding experience.
As chatbots are giving massive outcomes through their advanced features, the growth of any business is exponentially increasing. Chatbots automate your lead generation and generate reports to get a view on potential customers versus a normal audience. So, create a chatbot for your business that scales up your business to new heights."