What Is A WhatsApp Chatbot?
Users can talk to the chatbot just like any other contact on their phone. WhatsApp chatbot responds to natural language requests and questions.
The world of instant messaging has grown significantly over the years, to the point where most people tend to take for granted just how huge of a phenomenon it's become. Due to the rise of social media, most online users feel like messenger apps tend to be generic and mandatory. However, there's no denying just how much the apps have become a part of society as a whole.
Take WhatsApp, for example — much like any other messenger; it has all sorts of features that make it easy for people to connect with just about everyone. It helps individuals connect with their family, friends, coworkers, and even businesses. It's the business part that we're going to be talking about, specifically the ways a company can take advantage of accessibility in the WhatsApp sphere.
How Do I Make Things More Accessible With WhatsApp?
Making things more convenient with an already convenient app is the reason why some companies tend to outpace the rest of the competition. However, those who take the time to make things even better will always have the edge as they tend to think outside the box. In your company's case, there are ways to make things more accessible on an already excellent platform — specifically with the use of a chatbot.
After all, businesses would benefit from making their company more engaging to the target demographic. Unfortunately, it isn't always easy for online users to get a hold of customer service agents, and some don't want to bother with agents to solve their issues.
How Does A WhatsApp Chatbot Help?
You're probably already well aware of WhatsApp Business, the companion app that allows businesses to speak with their customers. It's an app that's already had its fair share of success and has been going strong for the past few years. That said, not every business will have the resources to stay available at all hours unless they make use of a chatbot that could make things easier.
The crucial thing is to have a means of user engagement without necessarily having the human element. As stated above, not everyone is happy with having to speak to an actual customer service representative to fix any issue they might have.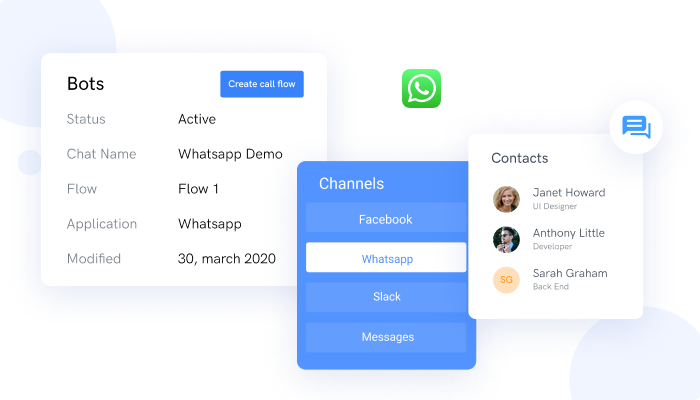 It's all about keeping balance, and you can do that by putting the freedom on the fingertips of your target demographic. Give them a chance to fix the issue with an advanced chatbot, and you'd be surprised how many cases you can resolve without having to lift a finger.
Using The Best Chatbot For Your Business
Now that we've figured out the importance of chatbots for your company, it's time to consider which might be the best fit. Luckily for you, we've already done the work — all you have to do is look into WhatsApp chatbot to get started!
It's understandable to be on the fence about which chatbot you can use, but there's no reason to fret when it comes to BotUp. After all, there will likely be hundreds (if not thousands) of people looking to connect with your business through WhatsApp. Many of those will have questions about your business, which is why BotUp offers the ideal solution to your issues. With BotUp's platform, you won't have to worry about those thousands of queries — they can be solved without having to go through a real agent.
The thing about chatbots is that they can quickly solve a problem that might otherwise have taken the effort of a customer service agent. You'd be surprised how many people have issues with the most minor things, which is why chatbots are such a crucial piece of the puzzle. BotUp makes things pretty easy by adding the chatbot to your WhatsApp Business account without overcomplicating things. You can even customize it however you like without worrying about anything else.
Conclusion
Messengers are some of your company's best ways to connect with its audience. While real agents are fantastic, you can only have so many active at a single time. With a proper chatbot from BotUp, you have the opportunity you need to achieve standout success.