The business world is shifting to a more customer-centric strategy. A company must develop client loyalty through excellent customer service in order to generate revenue.
Chatbots are changing the way people interact with businesses on the internet. Chatbot has made it easier than ever to deliver excellent customer service, which has resulted in greater sales for all of the companies that use them. Read on for 5 surefire ways to increase sales and improve customer service for your business using the automation power of chatbots.
1. Use Chatbots for Lead Gen
Do you require high-quality leads to be passed on to your sales agents in order for them to generate value or even close? If that's the case, chatbots can make lead generation easier for you by capturing leads across many channels with ease.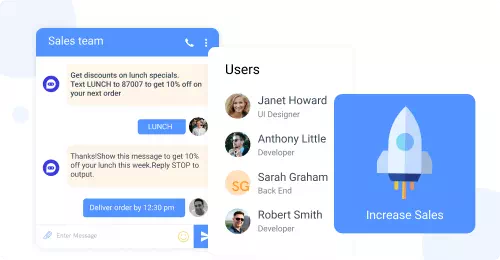 When a Messenger chatbot interacts with a user, the individual is added to your Facebook Business Page's contact list. The bot can even go so far as to ask for the user's email, phone number, or other relevant information.
This enables you to add the user to a variety of other contact lists, such as a simple marketing mailing list, a lead nurturing campaign, or a qualified lead pass-on to sales. The nicest aspect about employing Messenger chatbot to generate leads is that they don't have specific working hours; they're available at all times, allowing you to nurture leads rather than merely generate them.
2. Use Chatbots to Increase Engagement
Chatbots are bits of software that have been programmed to do a certain task. They can even have amusing ""personalities"" and serve as a helpful store assistant when you have a query.
To generate consistent brand messaging, integrate your chatbot's ""personality"" with your business's tone. Many organizations give their chatbots names and backstories (see Rob Bot, 10to8's chatbot). Have you ever considered that ""employing"" a chatbot can also be a cost-effective branding exercise? The chatbot can also be included to your Meet The Team page. Using your chatbot for branding purposes can increase consumer engagement and keep them interested, resulting in increased conversions and sales.
When waiting for a human to answer or data to load, the chatbot can also be utilized for sheer fun. Domino's Pizza Tracker, Dom, isn't quite a chatbot, but he does a great job at alerting pizza aficionados about the status of their order while also entertaining them with dad jokes. People speculating if the pizza tracker is real, for example, can generate awareness for your brand.
You can set up auto-responses if the goal is speedy interaction and response. For example, Facebook chatbot auto-responders can send a direct message to a person who comments on a Facebook post with this particular configuration. Use this configuration on posts that are supposed to elicit interaction, such as those that ask questions, give discounts, and so on.
Click-to-Messenger ads are another example. They work similarly to traditional Newsfeed advertising, except instead of taking the visitor to your website, they lead them to a Messenger window containing your chatbot. This type of advertisement generates more contacts and consequently more leads. These two technologies may be combined and used in a variety of ways to thrill your customers and keep them connected with your business, including contests, polls, quizzes, and more.
3. Use Chatbots for Frequently Asked Questions
Every firm receives a set of questions on a regular basis. They could be concerning delivery information, warranties, pricing, or data security concerns. That's why most websites have a FAQ area, which people either read or don't read and instead contact you about.
The problem is that repeatedly answering the same questions wastes a lot of time that could be spent on projects that produce income and help your company develop. Chatbots come very handily in this situation.
When you employ FAQ chatbots to answer the most commonly asked questions, you'll have more time to focus on other tasks. Customers will also receive an immediate answer to their concerns using a mobile-friendly interface, allowing them to get help anywhere and at any time.
4. Use Chatbots to Provide 24/7 Customer Support
Chatbots may provide customer service 24 hours a day, seven days a week, in addition to being mobile-friendly and serving clients on the go. If you service consumers from all over the world, you won't have to worry about business hours or time zones.
Customer service chatbot will be available 24 hours a day, 7 days a week, allowing your consumers to interact with them anytime they have a question. Your consumers will be able to ask questions, collect services, buy products, and more depending on the level of functionality you build into your bot.
Providing chatbot support 24 hours a day, 7 days a week can boost customer happiness and service overall. This will allow you, the human support team, to intervene only if a more complex question arises that the chatbot cannot answer. As a result, you'll be able to offer prompt and high-quality assistance.
5. Use Chatbots to Sell Your Product
Consumers, believe it or not, are comfortable purchasing things from chatbots that offer a personalized shopping experience. Adding a sales capability to your chatbot for website can result in more direct sales because customers can purchase directly from the chatbot interface. Chatbots can reduce the sales cycle if your company relies on lead generation and a sales team to generate value from leads.
The sales process will be streamlined as well, with the customer being guided smoothly through the sales funnel. Although a chatbot won't be able to seal the transaction for you, it can set up a call between the client and one of your salespeople. Scheduling calls as soon as feasible might also help to accelerate the sales process.
You'll also be able to focus on providing a high-quality client experience because your chatbot can handle a variety of other jobs that don't require human input. Your support, sales, and customer success teams may concentrate on onboarding, retention, and loyalty programs, resulting in increased sales, higher customer satisfaction, more renewals, and fewer churn rates.